India of the ages is not dead nor has she spoken her last creative word; she lives and has still something to do for herself and the human peoples.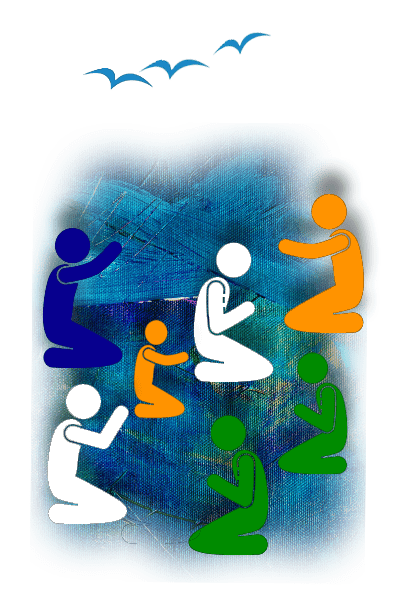 What is the Right Path for India: Secularism or Spirituality?
M.S. Srinivasan ponders over the very relevant question…
India's definition of spirituality is universal. Its spirit draws its sustenance from the Absolute Truth. Its soul embodies oneness. Perhaps, this is too fantastic an idea, beyond the grasp of the modern 21st century human intellect. The popular western concept of equality is at the more tangible level of secularism giving equal respect to all religions and forms of faith. So, where does India's path lie? On the surface of the contemporary world – wide, open and broad – embracing all with an inclusive culture of mutual respect? Or deep and high, aligned to the Supreme Truth of soul-oneness?
Lights on Life
Pulses of truth that clears up life's pathway and makes it a joyful and confident journey
Questions and Answers
Our ordinary life is fraught with doubts, confusions and questions on its various aspects. Our Questions and Answers section is a compilation of questions on multiple subjects, asked by aspirants to Sri Aurobindo and The Mother and the answers given by Them. Please visit - an answer may be awaiting you, even if you do not have a question.
Inspiration
What Sri Aurobindo represents in the world's history is not a teaching, not even a revelation; it is a decisive action direct from the Supreme.
-The Mother

Guidance
On life's journey, we are sometimes struck by a distressing obstacle in our path, numbing our strength and capacities to move ahead. Or it could also be a strong aspiration that blindly seeks an expression. At these times, if we concentrate and sincerely search for an inner guidance, it does somehow reach us through some means and a path opens up, almost like miracle! If you are in a situation like this, try our Guidance section and see if it helps. Do share your experience with us.
Events and Announcements
Glimpses of recent activities at SAS
Sri Aurobindo: A New Dawn – An Animation Film
Sri Aurobindo created a New Dawn for the earth. A new consciousness. A new freedom. Unprecedented and way beyond our comprehension. India, His motherland, the spiritual fountainhead of the entire world, is His chosen place of Sadhana. It is our humble effort to weave the story of His relationship with His motherland, through an animation film, called 'Sri Aurobindo: A New Dawn'. With His generous blessings, we have completed the trailer and are delighted to be sharing the link on this very important day. We will be very happy if you can be part of the making of the full feature film.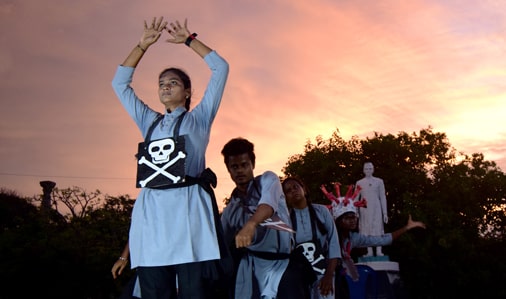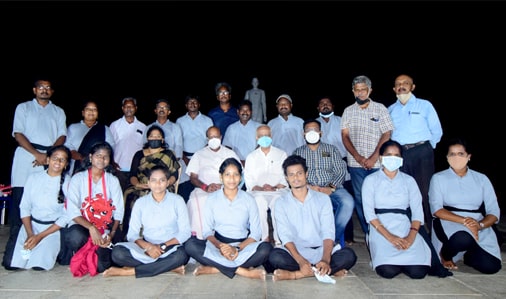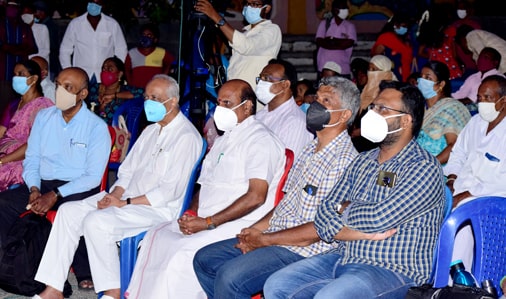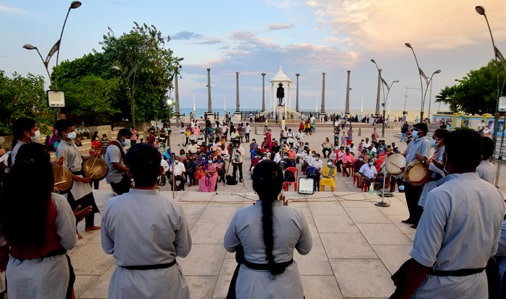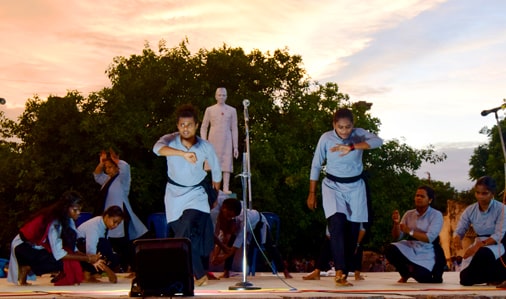 Street Theatre on the beach
Kalajatha, the street play, performed by the Swarnim Puducherry team, has been inspiring villages in Puducherry to take the COVID-19 vaccine. In the valedictory programme, it thrilled the crowd at the rocky beach of Pondicherry in the presence of Shri. Lakshminarayan the Hon'ble PWD Minister of Pondicherry.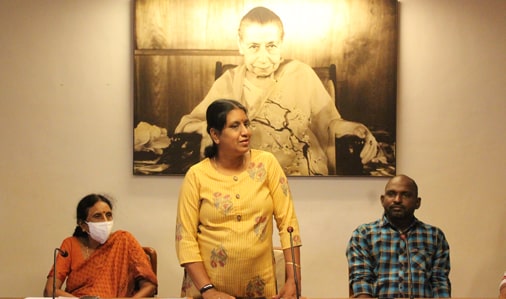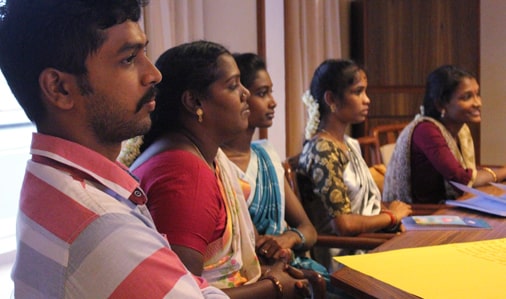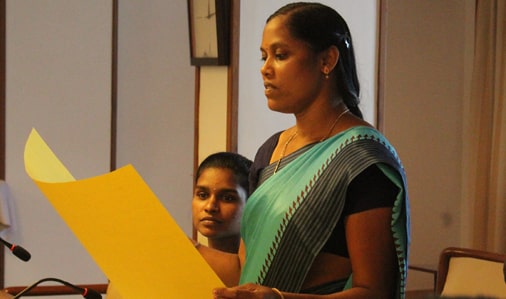 Teachers Trained for Palliative Care
Sanjeevan, the Palliative Care unit of Sri Aurobindo Society constantly trains volunteers for palliative care. And this time, it was teachers who received this invaluable training. The aim is that the teachers would imbibe the spirit of palliative care in the students and in their respecitve communities.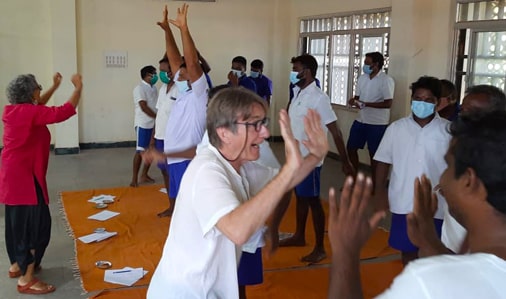 Emotional Intelligence Workshop for Inmates
As part of Puthiya Nambikkai (New Hope), the Model Prison Project, the inmates had an interactive workshop on Emotional Intelligence. Well, not just the inmates. The prison authorities were found to be joining the sessions voluntarily, and participating zealously in the activities. A 'captivating' workshop, indeed!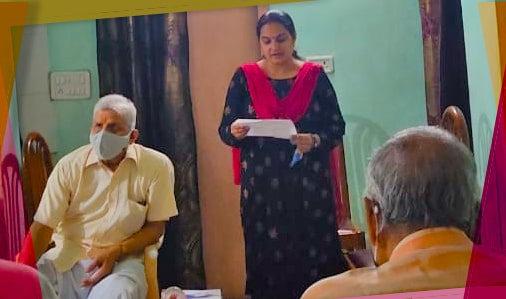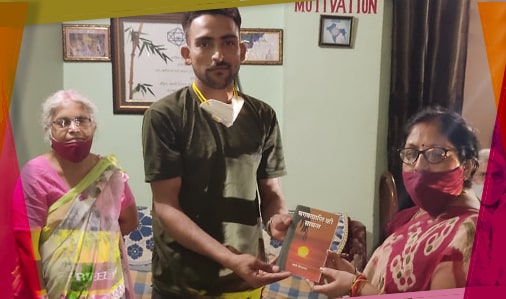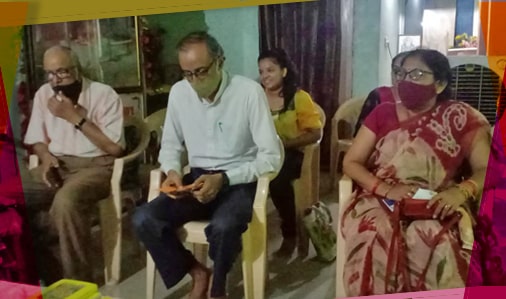 News on Gwalior Centre
The Gwalior Centre of Sri Aurobindo Society is getting back to normal. Ranjana Prasad, the Chairperson, declared 'The centre will resume their regular monthly classes from now on.' As we salute their faith and confidence, let us be inspired to transform our fears of the pandemic to certitude in the victory of Light.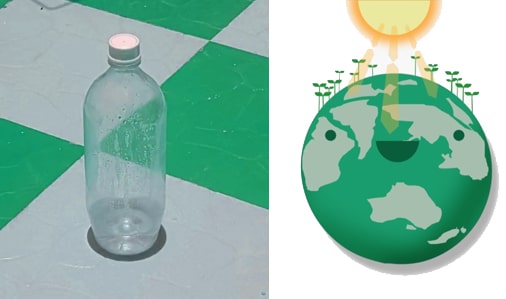 Zero Shadow Day
Most of us believe that the sun is directly above us at mid-noon every day. But that's not true! It happens only twice a year for a given location, when its latitude equals the declination of the sun. Svarnim Puducherry is observing this fascinating celestial phenomenon called the Zero Shadow Day, with DST, Government of India. DSTE, Government of Pondicherry and Pondicherry Science Forum on August 21st, 2021, at APJ Abdul Kalam Science Centre, You are warmly invited to attend in person.
India proclaimed its Independence, Sri Aurobindo, on this birthday of free India, which was also his own birthday, made several prophecies, which he called 'dreams'.
"The first of these dreams… the partition must go… the division must go; unity must and will be achieved, for it is necessary for the greatness of India's future.
"Another dream was for the resurgence and liberation of the peoples of Asia and her return to her great role in the progress of human civilization…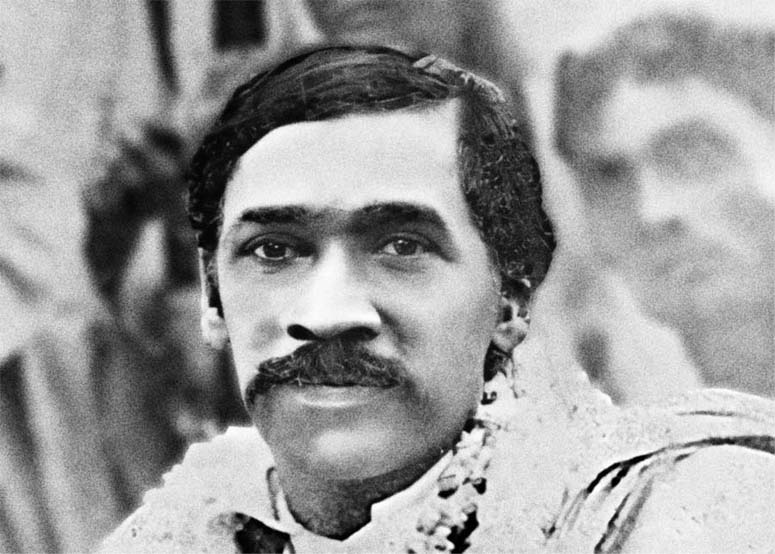 (…is all we need to embrace life with a smile!)
On His Birthday, a glimpse of Sri Aurobindo's subtle crisp sense of humour in His correspondence with Nirodbaran. Yes, there was an ocean of mirth beneath the profound demeanour of The Master! (Excerpt from Nirodbaran's 'Sri Aurobindo's Humour')
Myself: Guru, so permission for Darshan given to S. Majumdar and staying with Dilipda too? I also know him, he is really a fine man.
Dilipda promises me a kingdom for a wire, if I can get your answer today, well, the kingdom will be one day earlier, as the wire will go today.
Sri Aurobindo: Can wire and become a king at once.
Myself: I have given you my time-table so that you may concentrate on me at the exact time. I hope the mathematical figures won't give you a shock!
Sri Aurobindo: No fear! Mathematics are more likely to send me to sleep than give a shock. 
Olympic Medals for India – now and then!
Neeraj Chopra, Ravi Kumar Dahiya, Mirabai Chanu, P V Sindhu, Lovlina Borgohain, Bajrang Punia, Manpreet Singh & his team. Stars that brought blazing glory to India in the recent Tokyo Olympics 2021. Murlikant Petkar. A veteran Indian soldier of the Pakistan war. Also the one who won gold medal in Paralympics swimming event, the first gold medal for India in any Paralympics. Read about this inspiring never-giving-up hero at the link.