Forget not that the grossest crime is to compromise with injustice and wrong. Remember the eternal law: You must give, if you want to get.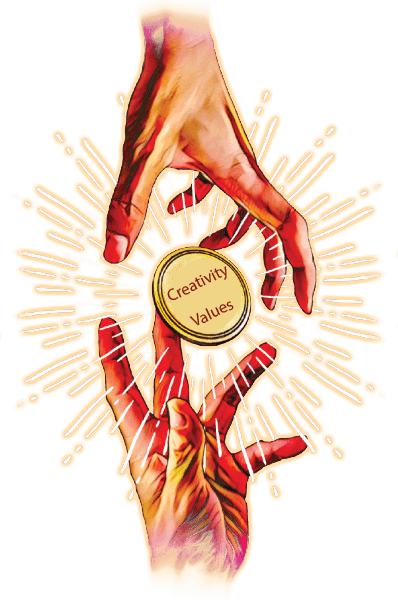 As a coin has two sides, everything has two faces. It is not ingenious to take only the side that fits one the best. One must analyze all the pros and cons before arriving at a conclusion. This conclusion must be favorable or accepted by at least the majority of the stakeholders. 
Similarly, there are two schools of thought. One school believes values are essential in life, and the other school says creativity is the need of the hour. One has to understand that values and creativity are the two pillars of developmental learning. The right combination of both will get the perfect results. This article examines how to incorporate these two vital factors into our learning systems.
Lights on Life
Pulses of truth that clears up life's pathway and makes it a joyful and confident journey
Questions and Answers
Our ordinary life is fraught with doubts, confusions and questions on its various aspects. Our Questions and Answers section is a compilation of questions on multiple subjects, asked by aspirants to Sri Aurobindo and The Mother and the answers given by Them. Please visit - an answer may be awaiting you, even if you do not have a question.
We cannot and must not stop progress but we must achieve it in an equilibrium between the inside and the outside. 
The Mother

Guidance
On life's journey, we are sometimes struck by a distressing obstacle in our path, numbing our strength and capacities to move ahead. Or it could also be a strong aspiration that blindly seeks an expression. At these times, if we concentrate and sincerely search for an inner guidance, it does somehow reach us through some means and a path opens up, almost like miracle! If you are in a situation like this, try our Guidance section and see if it helps. Do share your experience with us.
Events and Announcements
Glimpses of recent activities at SAS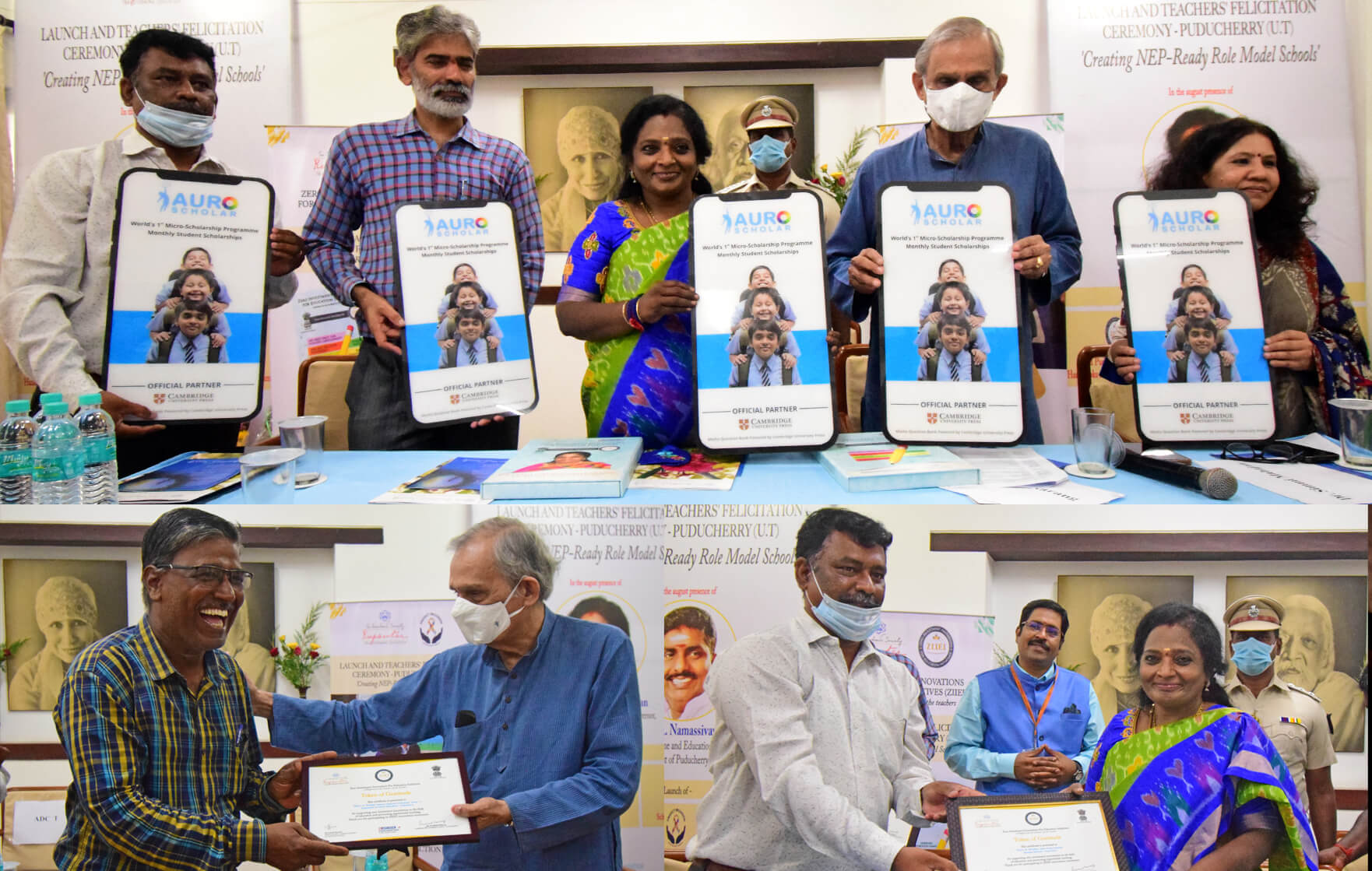 Hon'ble Lt. Governor Dr. Tamilisai Soundararajan Felicitates Teachers
In a programme organized by Rupantar, an educational initiative of Sri Aurobindo Society, on July 20, 2022, Dr. Tamilisai Soundararajan, Her Excellency Hon'ble Lieutenant Governor, Puducherry, felicitated more than 150 teachers and educational officers. She also launched the Union Territory's ZIIEI Innovations Handbook, Project Inclusion and Auro Scholarships Programme.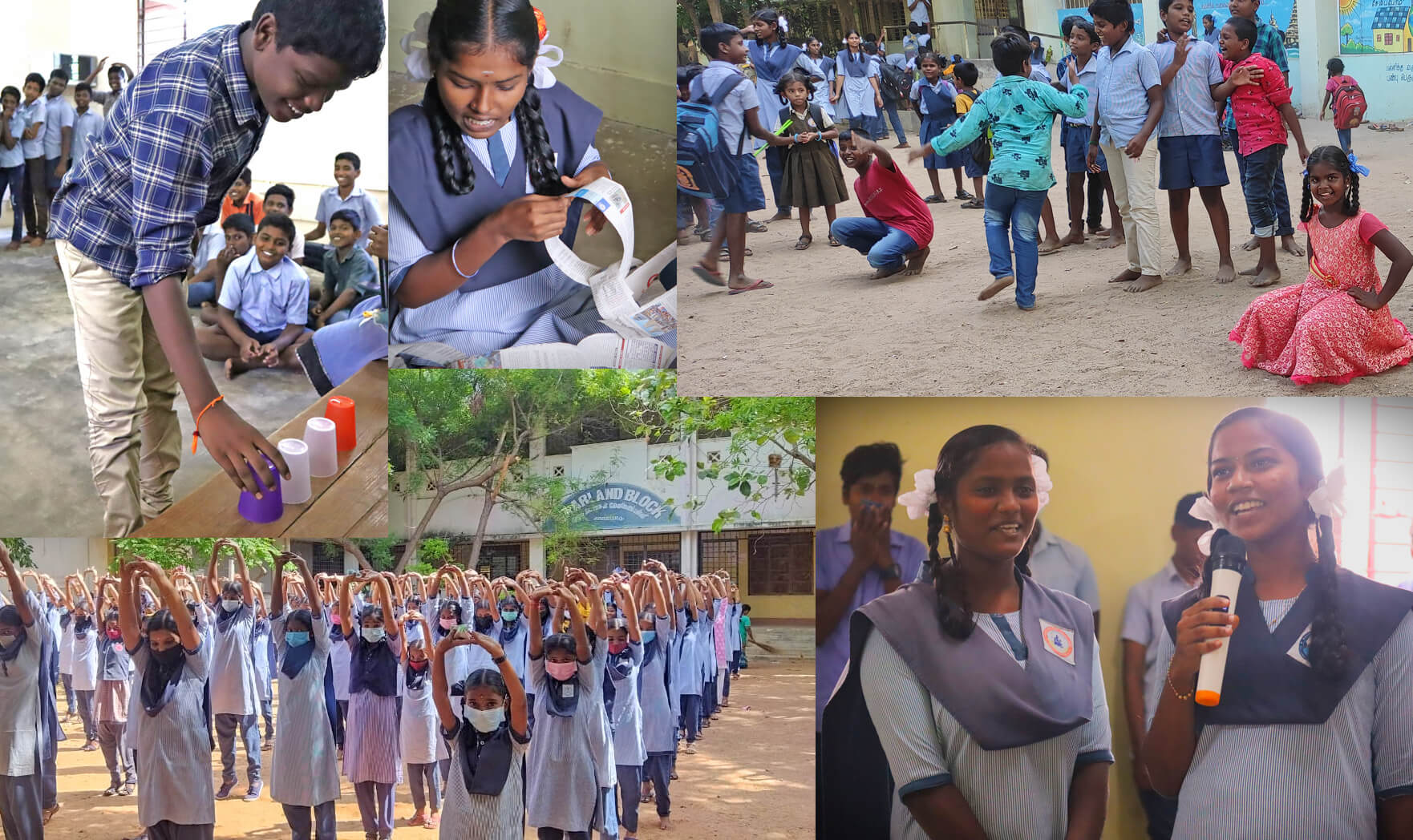 This Fortnight @SVARNIM
To inculcate the habit of exercises and to create awareness among school children on general well-being, a physical intervention programme is proposed to be conducted in ten government schools. In the first phase, five government schools from various parts of Pondicherry participated in the programme. Earlier, an orientation for the physical education teachers was held. As part of the 'Our Responsibility to Children' initiative, follow-up programmes were conducted in the government schools. After nearly a year, the team visited the schools again and was elated to find that the initiative has achieved tremendous success.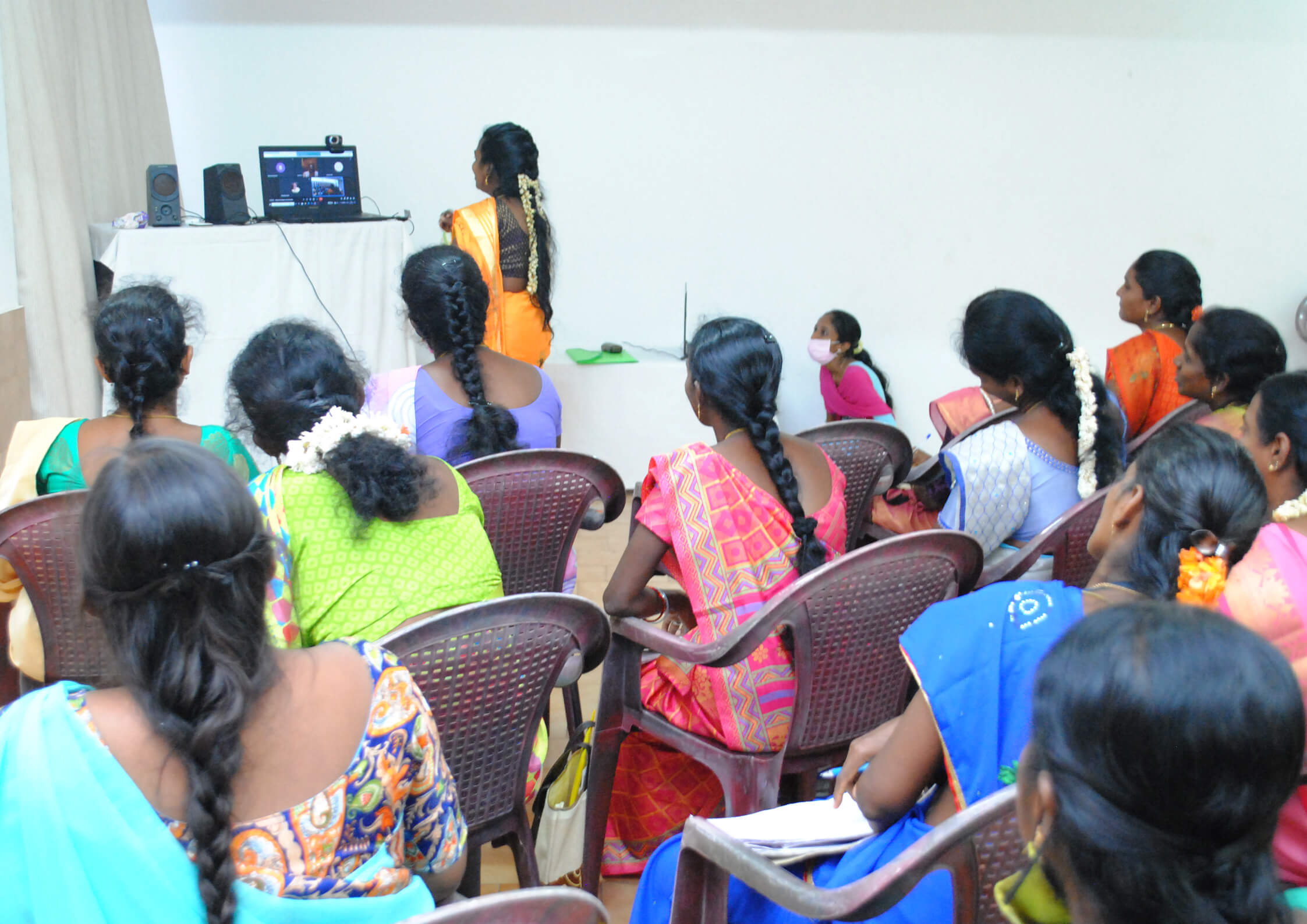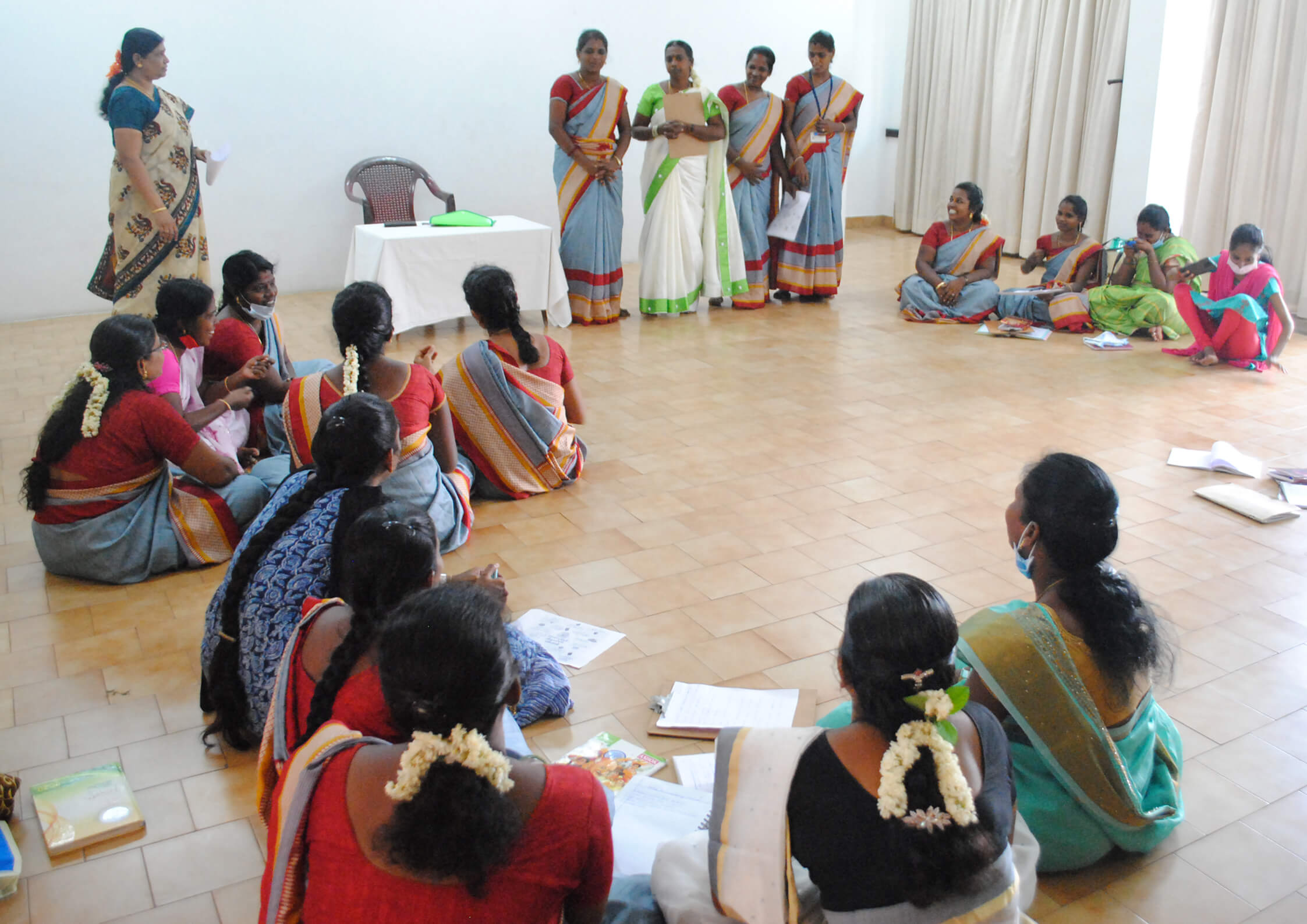 Training on Food Safety for AuroSakhis
Dr. Ajantha Parameshwari, PhD in Nutrition and Dietetics conducted an online training programme on 9 July, 2022, for 25 AuroSakhis on 'Nutrition for Better Life'. Following this workshop, the AuroSakhis were further trained on Food Safety & Nutrition Security at the Society House. Healthy eating habits, quick nutritious recipes, importance of exercise and well-being were some topics of discussion in the two-day workshop.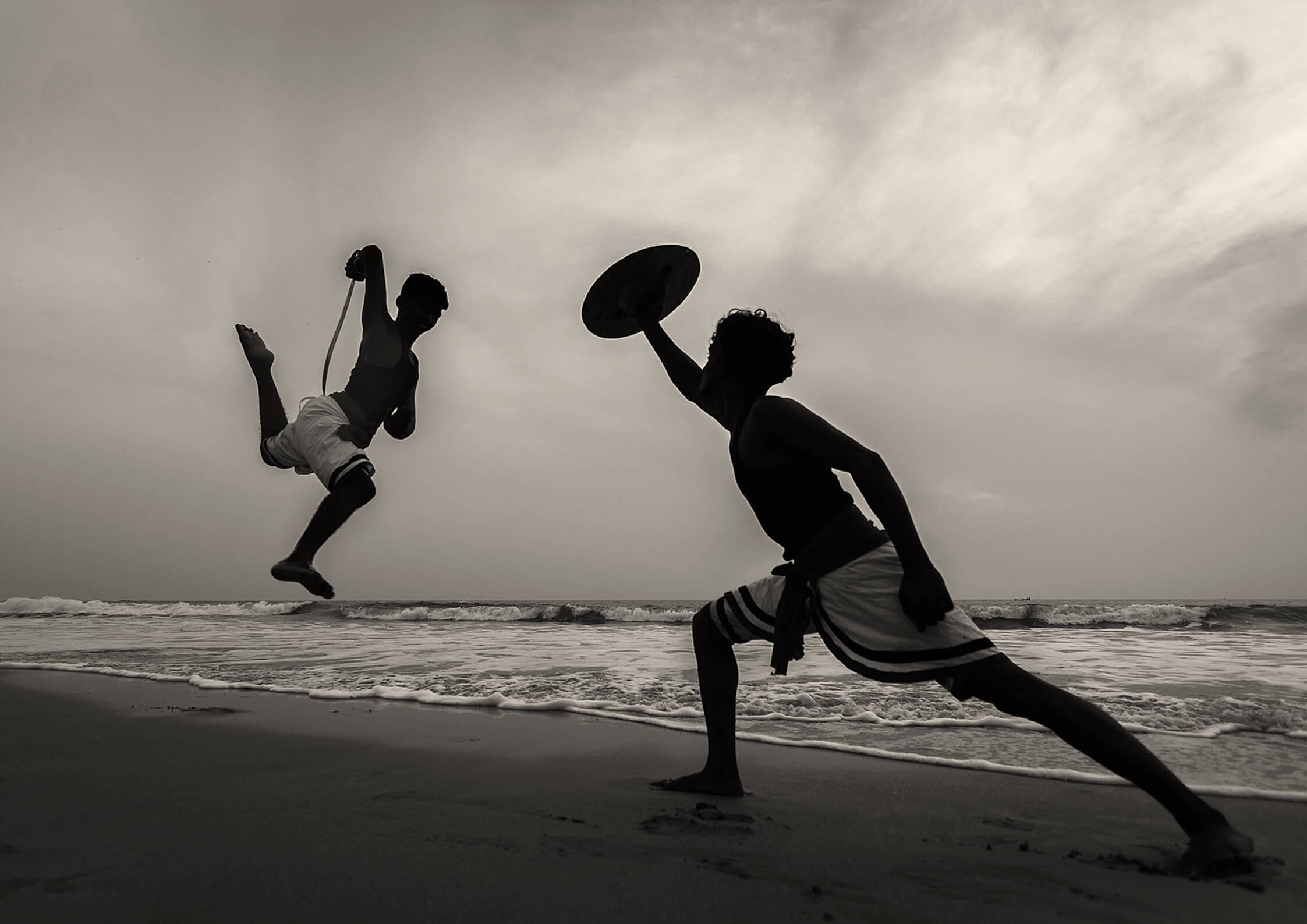 Learn Kalaripayattu Online
Kalaripayattu, once a martial art practiced in the battlefields has now taken the shape of fitness and sport. Kalaripayattu is believed to be the oldest surviving martial art in the world. Learn this traditional martial art from the comfort of home from August 1, 2022. AuroYajna is organizing Kalaripayattu classes for all those interested, and anyone above the age of six can enroll for it.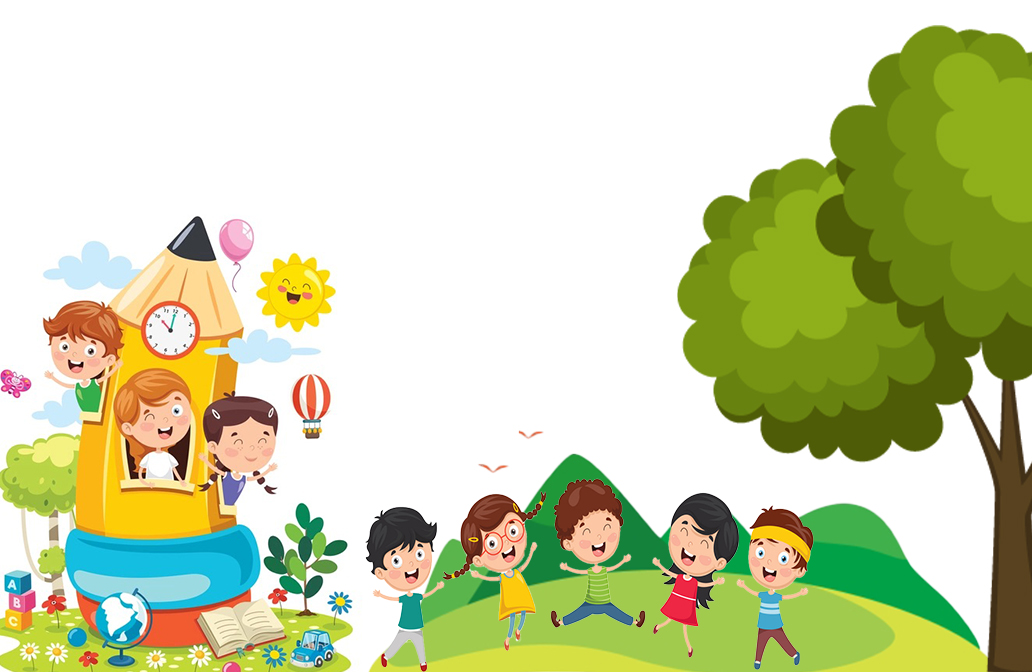 Bal Samskriti: Towards Creativity & Integral Development
Children in the age group of 5-13 are welcome to join this 3-day workshop commencing on 12 August 2022. This workshop focuses on the emotional, intellectual, physical, vital and mental development of children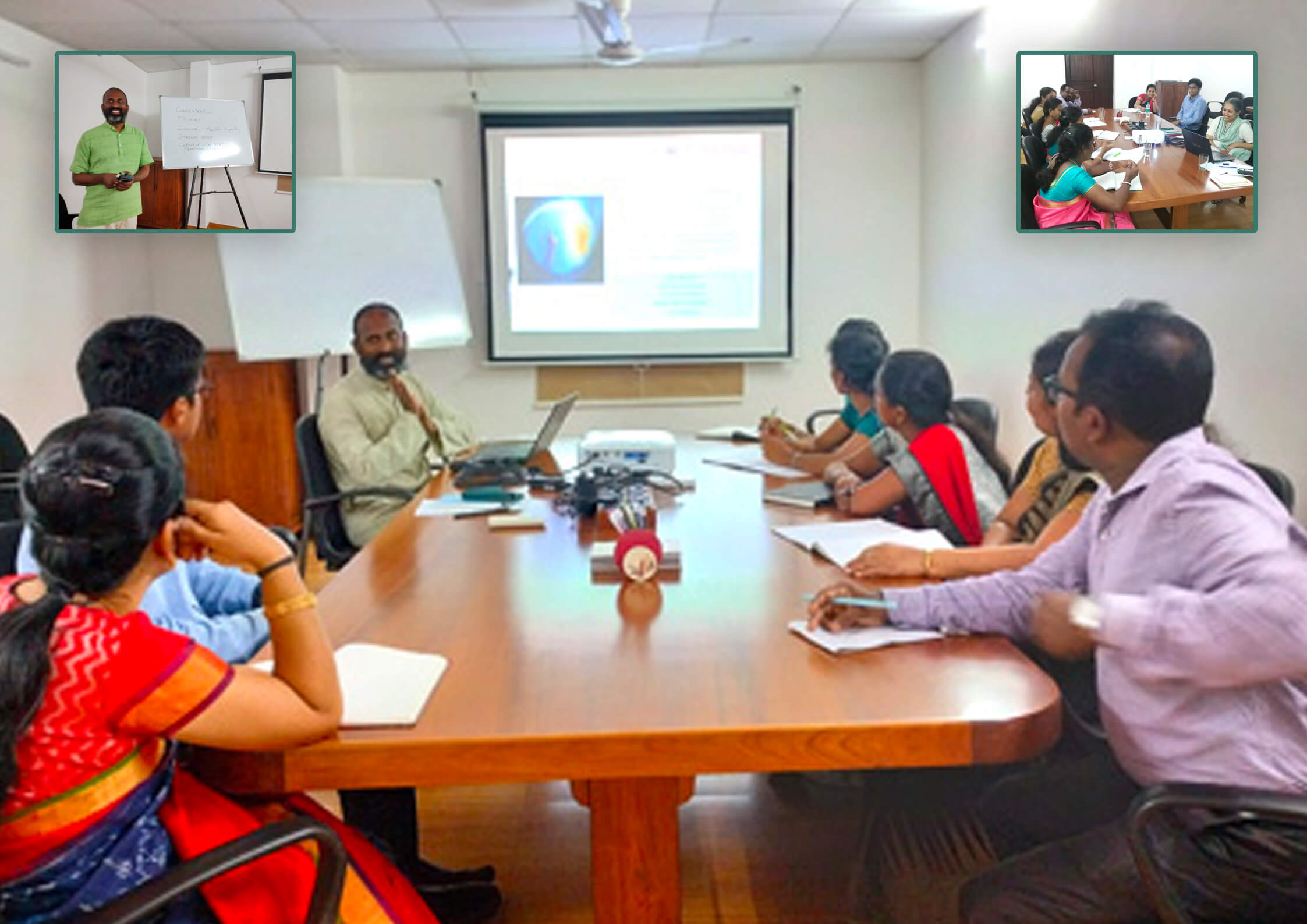 IE Camp for Namakkal Teachers
SAFIER organized a two-day Exposure Camp on Integral Education for a group of seven representatives from Dr. M.S. Udayamurthy School of Excellence, Namakkal, at the Sri Aurobindo Society and the Ashram premises, on 2nd and 3rd July, 2022. Mrs. Arthy Lakshmi, the correspondent of the school, showed keen interest in implementing Integral Education in her school. For a detailed report,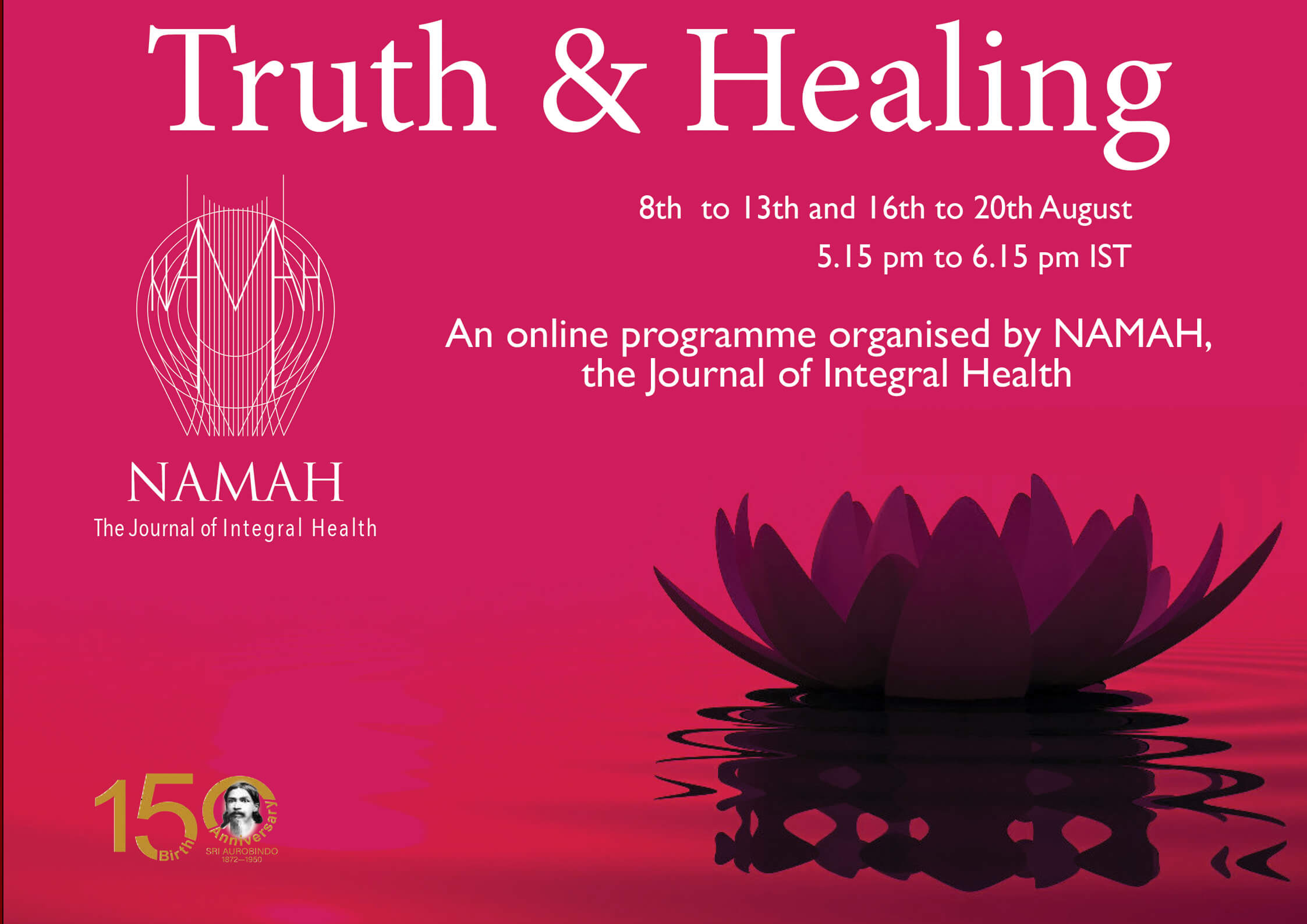 Truth & Healing
To realize the Truth within is the foundation of Integral Health. It is the key to our well-being. In this exploratory and healing online workshop from 8 to 20 August, 2022, one will learn how to open the Force in every part of oneself, and how to integrate it throughout the being, which is so often masked by the obscurities of our nature. Don't miss the workshop conducted by 11 eminent facilitators!
The Transformation - A Documentary Film
"The Transformation" is a tribute on the occasion of 150th Birth Anniversary of Sri Aurobindo and the 75th Anniversary of India's Independence. August 2022 is a very significant time in our Nation's history. 15th August will not only usher in our 75th year of independence but will also be the 150th birth anniversary of the person who inspired leaders who fought for our independence and was termed the 'Master Mind' by the British for their oust from India. On this auspicious occasion of the 150th Birth Anniversary of Sri Aurobindo (15th August 2022), Sri Aurobindo Society, Puducherry, and Kolkata Sukriti Foundation, have prepared a documentary film on Sri Aurobindo. It portrays this pioneering leader of the Freedom Movement and revolves around the period 1908 to 1909 when Sri Aurobindo was in jail in Alipore in Kolkata. Entitled 'The Transformation' in English and 'Naya Janma' in Hindi, the film is about 54 minutes long. The film will be telecast for the first time on Doordarshan in Hindi and English on the 14th and 15th of August, 2022 and will be available on social media platforms.
Sri Aurobindo: A New Dawn - Film in the Making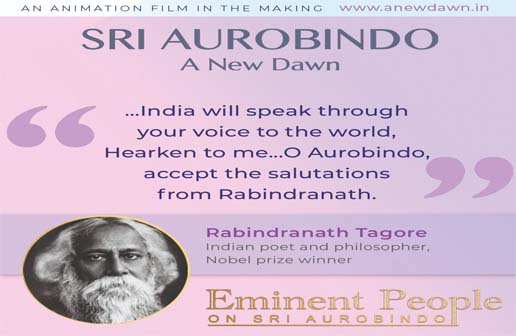 An animation film 'Sri Aurobindo: A New Dawn' is being made by Sri Aurobindo Society, to inspire the youth of India and the world, through the story of Sri Aurobindo and his immense contribution to the renaissance of India. This is our offering for the 150th year of Sri Aurobindo's birth.
We have commissioned this project to one of India's leading animation studios: Studio Eeksaurus, Mumbai, and the film has reached the storyboarding stage which is in full swing.
Read More
The Renaissance of India and the Indian Nationalism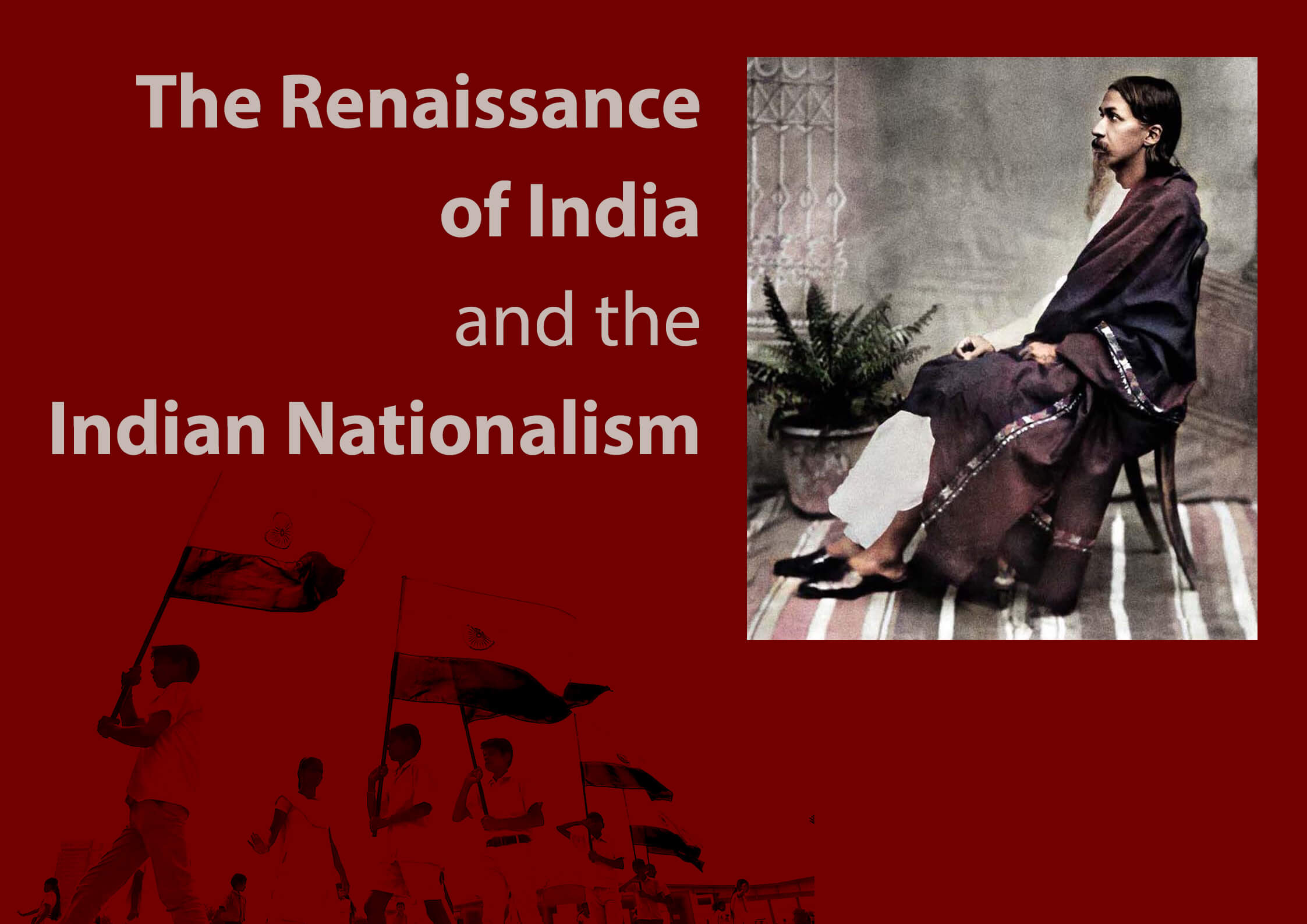 As part of the 150th Birth Anniversary celebrations of Sri Aurobindo and the 75th Independence of India, Sri Aurobindo Complex Trust and Sri Aurobindo Society State Committee, Karnataka, have jointly organized a national conference titled 'The Renaissance of India and the Indian Nationalism' in the Light of Sri Aurobindo. This one-day seminar on 7 August, 2022, will include talks by stalwarts and host cultural programmes. Besides you can feast your eyes for a visual treat of three exhibitions titled 'Sri Aurobindo on Nationalism', 'Sri Aurobindo and India's Freedom' and 'Sri Aurobindo: His Life, Yoga, and Teachings'. All this is happening at NIMHANS Convention Centre, Bangalore.
Offering in Humility and Gratitude
We stepped into a significant year on 15 August 2021 as it starts the 150th birth anniversary of Sri Aurobindo and the 75th year of India's independence. This section is our humble offering to this momentous occasion. We will bring a few golden glimpses from the Master's avataric life as well as a few glorious achievements of independent India.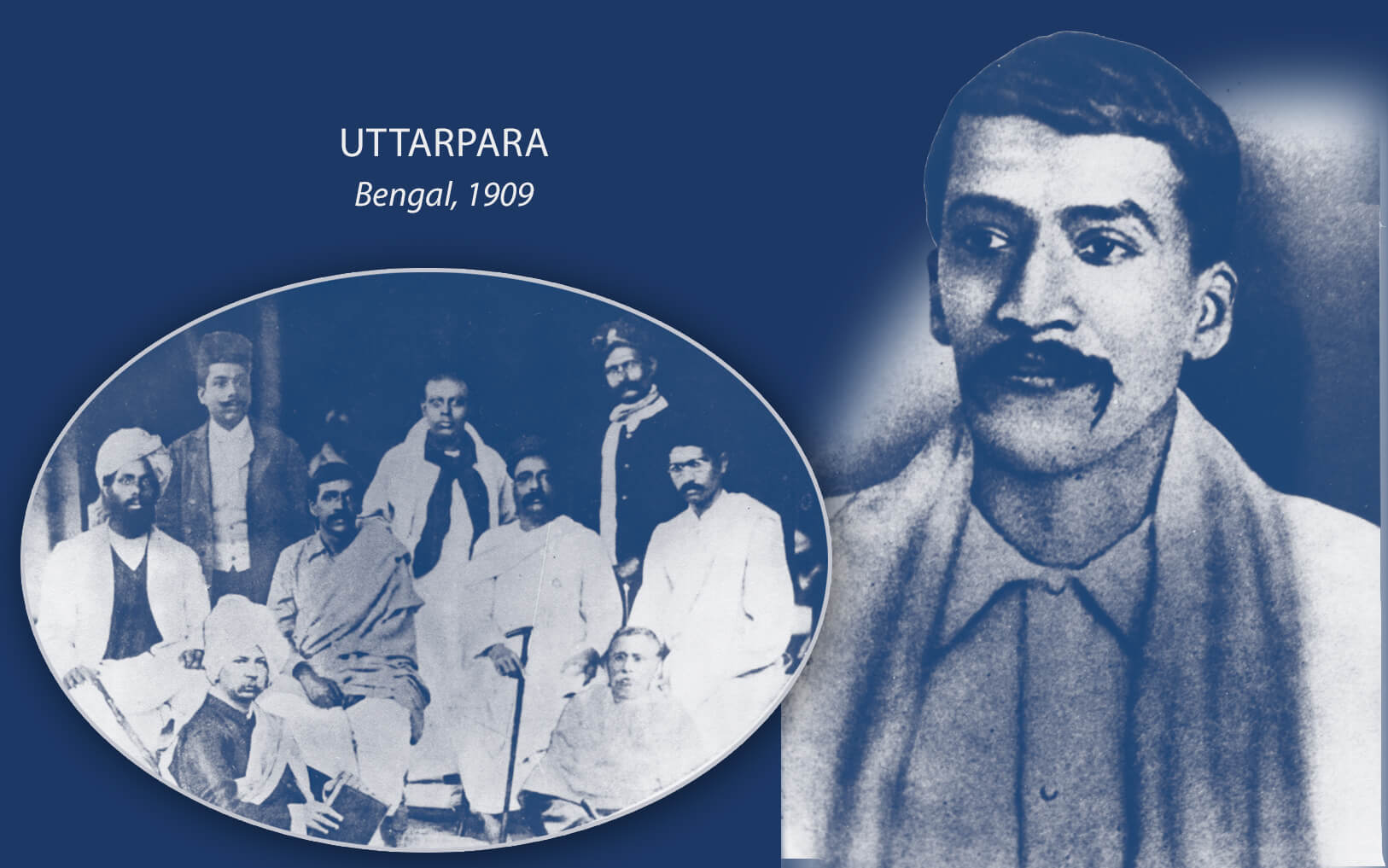 Delivered at Uttarpara, Bengal, on 30 May 1909. The text was published in the Bengalee, an English newspaper of Calcutta, on 1 June. Later it was thoroughly revised by Sri Aurobindo and republished in the Karmayogin on 19 and 26 June.
When I was asked to speak to you at the annual meeting of your sabha, it was my intention to say a few words about the subject chosen for today,—the subject of the Hindu religion. I do not know now whether I shall fulfil that intention; for as I sat here, there came into my mind a word that I have to speak to you, a word that I have to speak to the whole of the Indian Nation. It was spoken first to myself in jail and I have come out of jail to speak it to my people.
Read More
After a brief break, Sushmita Mukherjee has returned with the same zeal and enthusiasm.! Here is her poem this time for the readers to enjoy
The Pilot
Through repeated dips, 
Painful slips, in pains' iron grip
Incessant & seemingly endless, 
The Pilot Guides & Affirms:
"Truth Keeps Its Date, 
Needs no mandate. 
And thus times dim, 
Read More
(…is all we need to embrace life with a smile!)
And finally, it's now time to have some fun with these puns!
What does a snow monster take when its feeling ill?
A chill pill.
How do trees access internet?
They log in.
Why did the snow people go to the carrot patch?
To pick their noses.
Where do cauliflowers hangout?
Gobi Desert.
What kind of horses only come out after dark?
Nightmares
John Hope Bryant who is an American entrepreneur, thought leader and philanthropic leader, 100 Most Influential Georgians in 2022, shares his experience with an Indian car driver.  This one Indian has made all proud. The soul of India is still alive and lies in the hands of people who do not have a massive bank balance, but big hearts