Fearlessness is like a muscle. I know from my own life that the more I exercise it the more natural it becomes to not let my fears run me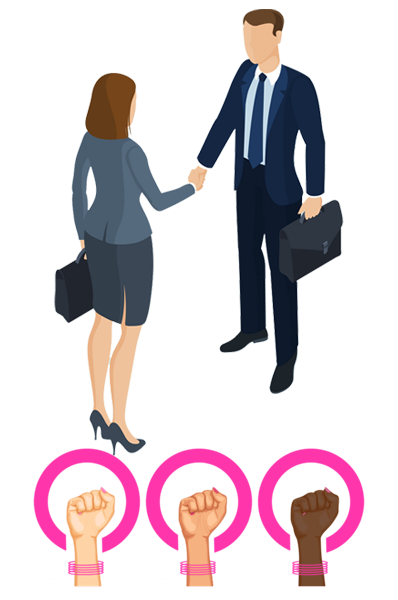 Rise of the Better Half in Business
Women are invading the corporate space at all levels. In fact, in spite of lingering challenges, and persistent cultural prejudices in favor of placing men at the leadership levels, women are taking every opportunity to demonstrate the difference and value-add they bring to the business bottom line with their inherent skills and nature. Being a woman is no longer a disadvantage at progressive workplaces, which take special measures to make women feel 'at home'.  
Lights on Life
Pulses of truth that clears up life's pathway and makes it a joyful and confident journey
Our ordinary life is fraught with doubts, confusions and questions on its various aspects. Our Questions and Answers section is a compilation of questions on multiple subjects, asked by aspirants to Sri Aurobindo and The Mother and the answers given by Them. Please visit - an answer may be awaiting you, even if you do not have a question.
Inspiration
At the head she stands of birth and toil and fate,
In their slow round the cycles turn to her call;
Alone her hands can change Time's dragon base.
Hers is the mystery the Night conceals;
The spirit's alchemist energy is hers;
She is the golden bridge, the wonderful fire.
–Sri Aurobindo
SAVITRI, BOOK III: The Book of the Divine Mother, p. 314
On life's journey, we are sometimes struck by a distressing obstacle in our path, numbing our strength and capacities to move ahead. Or it could also be a strong aspiration that blindly seeks an expression. At these times, if we concentrate and sincerely search for an inner guidance, it does somehow reach us through some means and a path opens up, almost like miracle! If you are in a situation like this, try our Guidance section and see if it helps. Do share your experience with us.
Events and Announcements
Glimpses of recent activities at SAS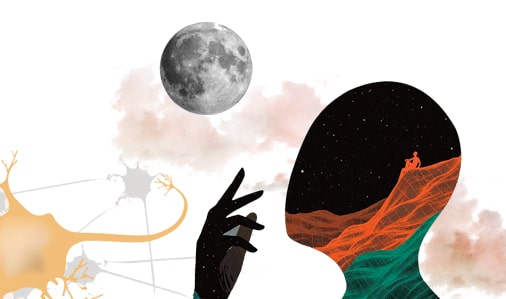 The Hierarchy of Our Consciousness
We all aspire for a life of poise and harmony, progressing in alignment with its true purpose. In the 5-day online workshop, renowned psychiatrist, Dr. Soumitra Basu discusses about the different planes of the being and the levels of consciousness in each of them, and ways to develop coherence through this hierarchy of consciousness. The workshop starts on 15 March 2021. Enroll to delve into awareness.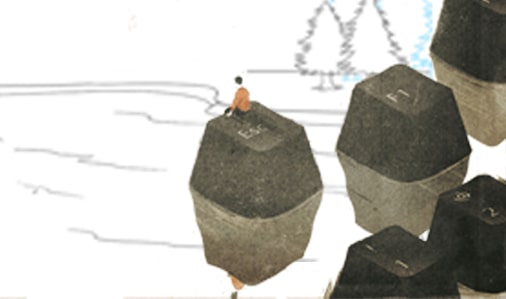 Overcoming Loss and grief
Grief is all-consuming. It comes as a reflexive response to loss. Life stands still, and the numbness inside engulfs the entire being in a cold embrace. We have all had the experience. To be able to reverse it with a loving acceptance seems like a Utopian aspiration. Integral Yoga, however, can actually make the change. The online workshop from 22 Mar to 27 Mar 2021 elucidates the states of loss and grief, very deeply - helping one to transform grief with gentle steps of understanding. Enroll to learn to live, despite loss.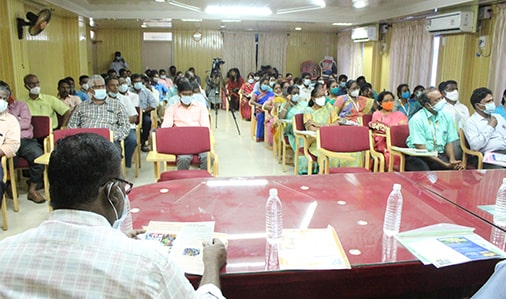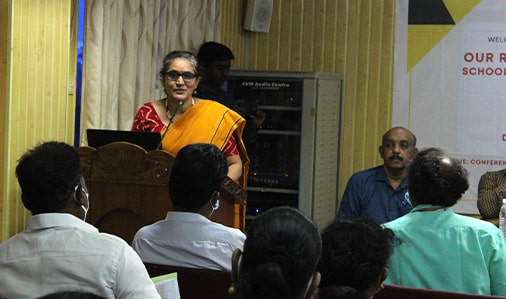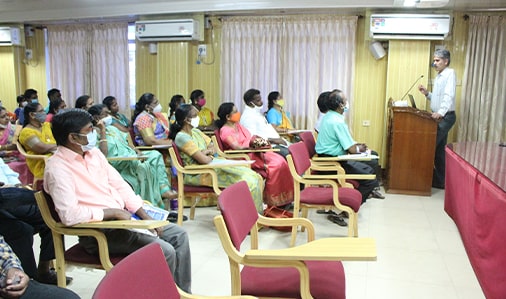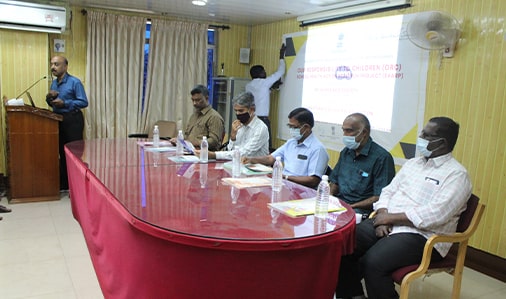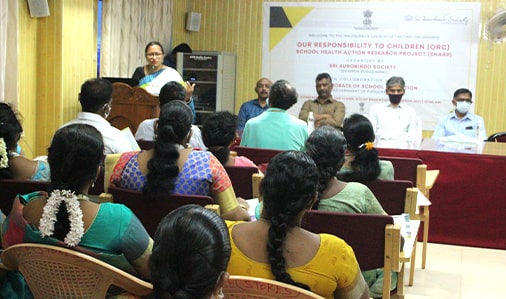 Launch of positive Mental Health Programmes
Sri Aurobindo Society along with the Department of Education, Puducherry launched two programmes Our Responsibility to Children (ORC) Phase 2, and the DST-Year of Awareness on Science & Health (YASH) that were inaugurated by Shri P.T. Rudra Goud, Director of School Education in an inaugural event held at the Directorate of School Education on 2nd March 2021. These two school-based child-centric initiatives work on creating actionable awareness on holistic health of children – both physical and psychological health with an aim to develop ownership in children for them and for their surroundings.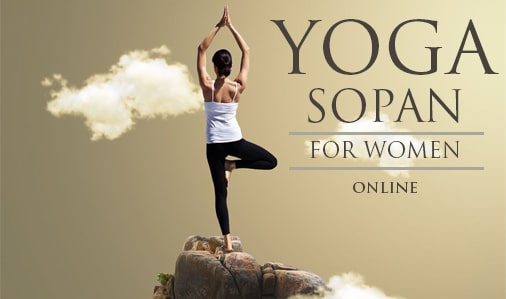 Women Empowered by Yoga
Asana, Pranayama, Mudra, Relaxation and Meditation for a better Mental, Emotional and Physical health, Immunity building, improved memory, flexibility, balance, vitality, weight loss etc. all as a takeaway from one programme. A month-long online yoga classes exclusively for women, Yoga Sopan has started on Mar 2, 2021 and will continue till the end of March,2021. Inviting all women to enroll.
Our past is folded gently into the albums of our memory. In colors of nostalgia – some rainbow-hued, some black and white, some in somber Sepia. In this edition of Readers' Column, discover this poem, written in the mood of reminiscence, by one of our regular readers, Ms. Mridula Singh, a poet, is a teacher educator by profession. She has keen interest in creative writing and has written poems, articles and short stories in English and Hindi.

Lots of Pictures we have today
In digital folders, a click away
But nothing can beat an album
Lying in an obscure wooden column
One day while dusting it appeared
Wearing the apathy as no one cared
The hands so accustomed to hurry
Stopped to shake hands with memory
Accidently, the small epic found intimacy
Black and white photos flashed vibrancy
Page by page fingers caressed the plastic cover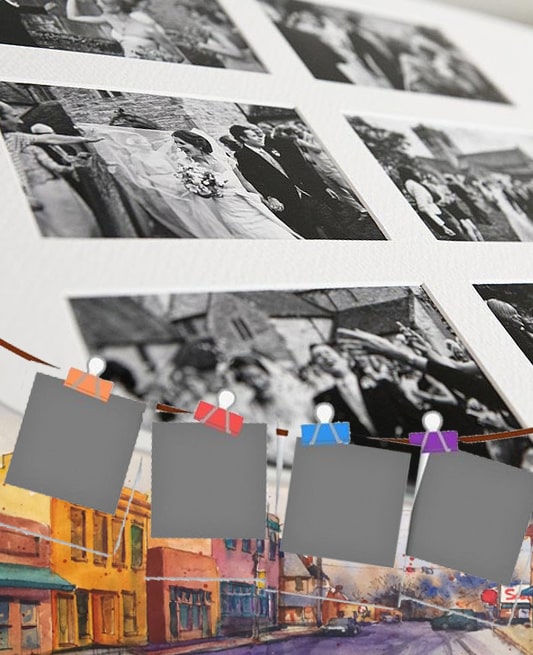 (…is all we need to embrace life with a smile!)
How much do you know about yourself? Order a pizza and find out.
Giggle's pizza
– Hello! Gordon's pizza?
– No sir it's Giggle's pizza.

– So it's a wrong number? Sorry
– No sir, Giggle bought it.

– OK. Take my order please
– Well sir, you want the usual?
There is always a reason behind a child demonstrating deviance or disobedience. As a teacher or parent, or if only as an adult, do we ever try to find the reason and help him or her to overcome the problem? Perhaps, no ('Where is the time for all that?!!'). But what happens, when in such cases, instead of the usual reprimand and punishment, the child receives a sincere act of understanding and compassion? Here is an example.