Buddha stands for the conquest over the Ignorance of the lower nature.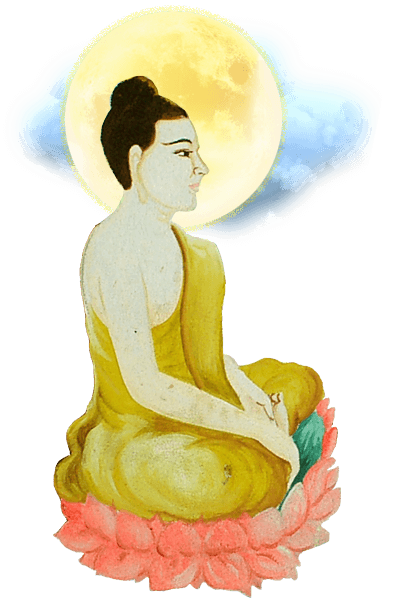 Buddha Purnima holds special importance for the followers of Buddhism, as it is believed that on this day of the full moon Lord Buddha also got enlightenment. In the Hindu tradition, the Buddha is regarded as the ninth incarnation of Lord Vishnu.
Sri Aurobindo has very succinctly expressed the greatness of the Buddha:
"Thus was it possible for the Buddha to attain the state of Nirvana and yet act puissantly in the world, impersonal in his inner consciousness, in his action the most powerful personality that we know of as having lived and produced results upon earth.
"… This possibility of an entire motionless impersonality and void Calm within doing outwardly the works of the eternal verities, Love, Truth and Righteousness, was perhaps the real gist of the Buddha's teaching,—this superiority to ego and to the chain of personal workings and to the identification with mutable form and idea, not the petty ideal of an escape from the trouble and suffering of the physical birth."
The Mother, while commenting on the 'Dhammapada', has mentioned: click on the link
Lights on Life
Pulses of truth that clears up life's pathway and makes it a joyful and confident journey
Questions and Answers
Our ordinary life is fraught with doubts, confusions and questions on its various aspects. Our Questions and Answers section is a compilation of questions on multiple subjects, asked by aspirants to Sri Aurobindo and The Mother and the answers given by Them. Please visit - an answer may be awaiting you, even if you do not have a question.
Care not for time and success. Act out thy part, whether it be to fail or to prosper
Sri Aurobindo

Guidance
On life's journey, we are sometimes struck by a distressing obstacle in our path, numbing our strength and capacities to move ahead. Or it could also be a strong aspiration that blindly seeks an expression. At these times, if we concentrate and sincerely search for an inner guidance, it does somehow reach us through some means and a path opens up, almost like miracle! If you are in a situation like this, try our Guidance section and see if it helps. Do share your experience with us.
Events and Announcements
Glimpses of recent activities at SAS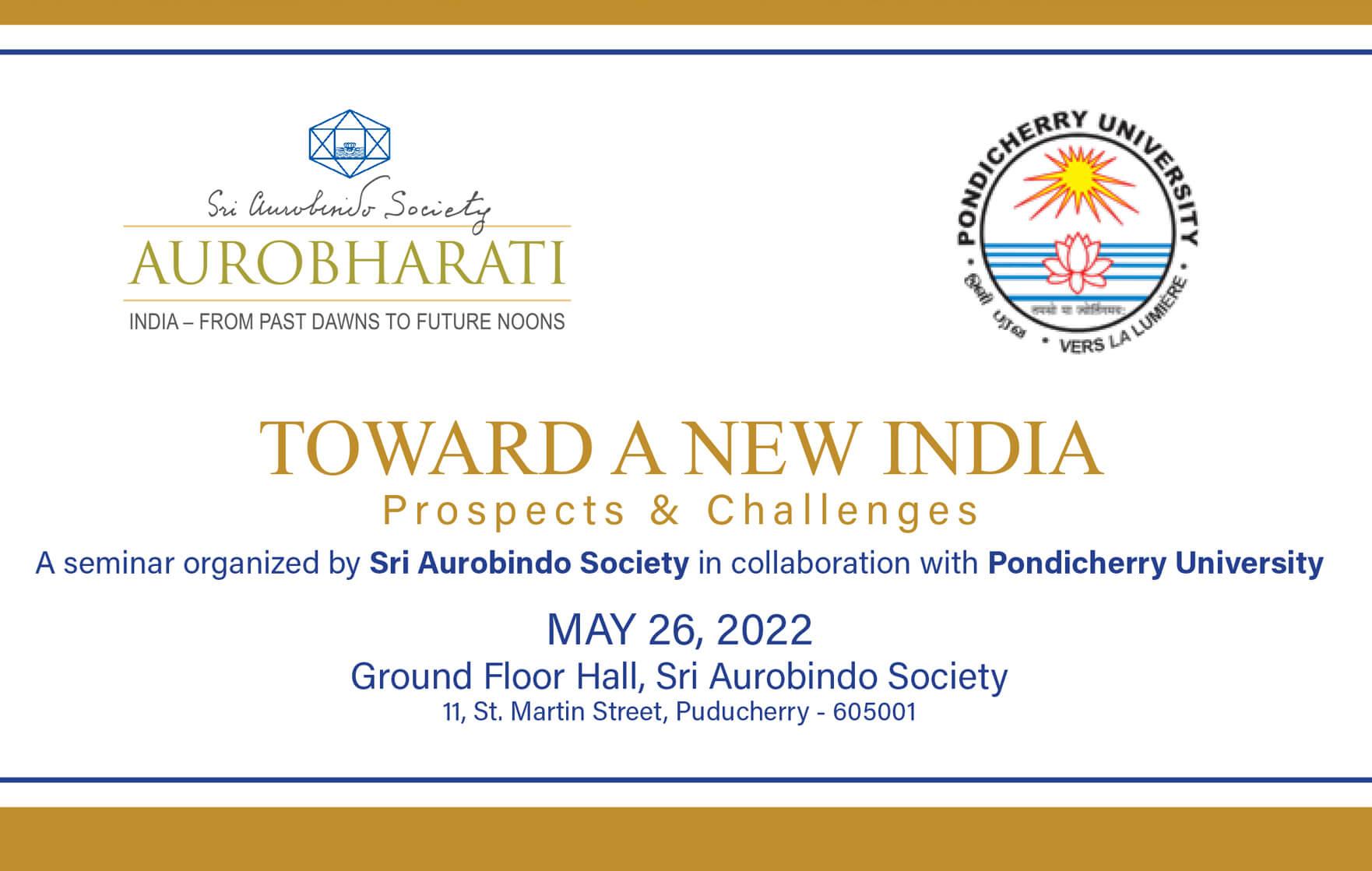 Toward a New India
AuroBharati, in association with the Pondicherry University, is organizing a one-day seminar on the topic 'Toward a New India: Prospects and Challenges'. Prof. Gurmeet Singh, Vice-Chancellor, Pondicherry University, will deliver the keynote address. The seminar is on 26 May 2022 at the Society House from 9:30 a.m. to 1:30 p.m. All are welcome!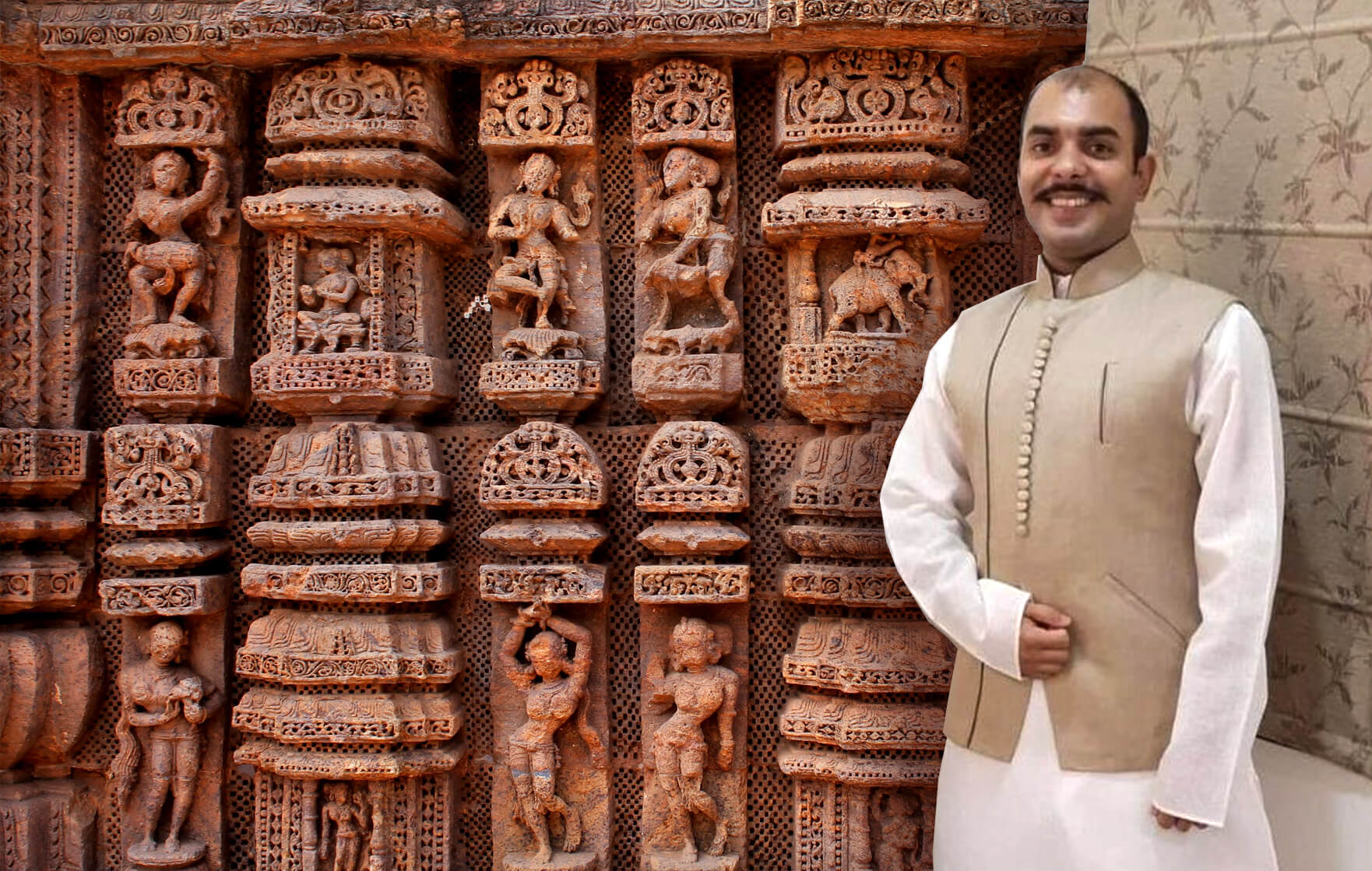 History or Itihasa?
As part of Sri Aurobindo Society's celebrations for the 150th Birth Anniversary of Sri Aurobindo, AuroBharati and AuroYajna invite all for the seventh Special Lecture on the theme – 'India, Our Mother on the topic: History or Itihasa?' Join this online lecture on Sunday the 5th of June 2022 from 11 a.m. to 12 noon by Dr. Pranjal Garg, Assistant Professor in the Department of History at Central University of Tamil Nadu, Thiruvarur, and find the answers yourself. This programme will be live on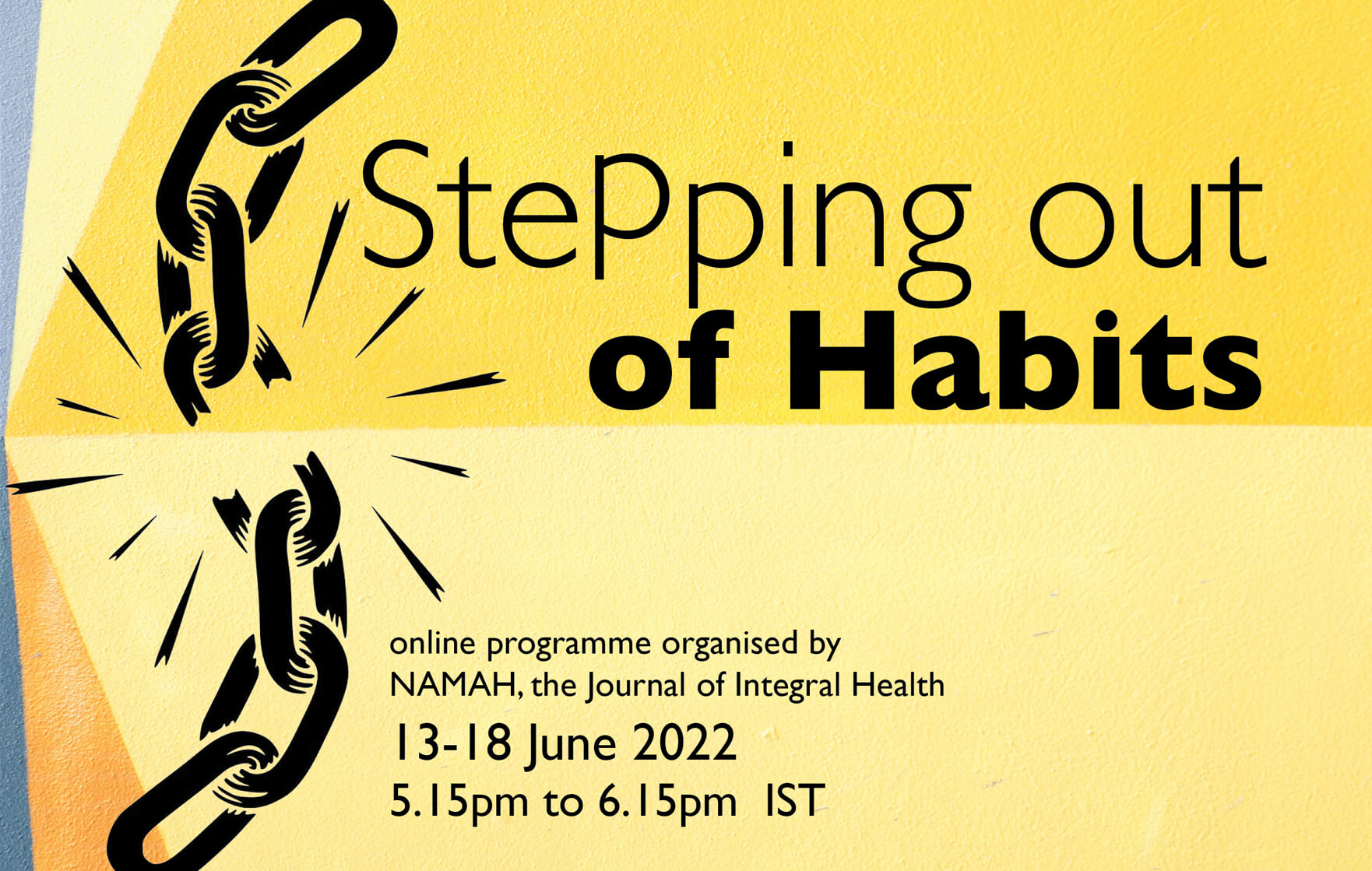 Stepping Out of Habits
Stepping out of habits is a major aim and almost the ultimate test in Integral Yoga. The New Body has no room for negative habits. Removing all our habits is imperative to self-mastery. Join this practical and interactive workshop organized by NAMAH, the Journal of Integral Health, to find out how one can step out of habits. Enroll for the six-day online workshop from June 13-18, 2022.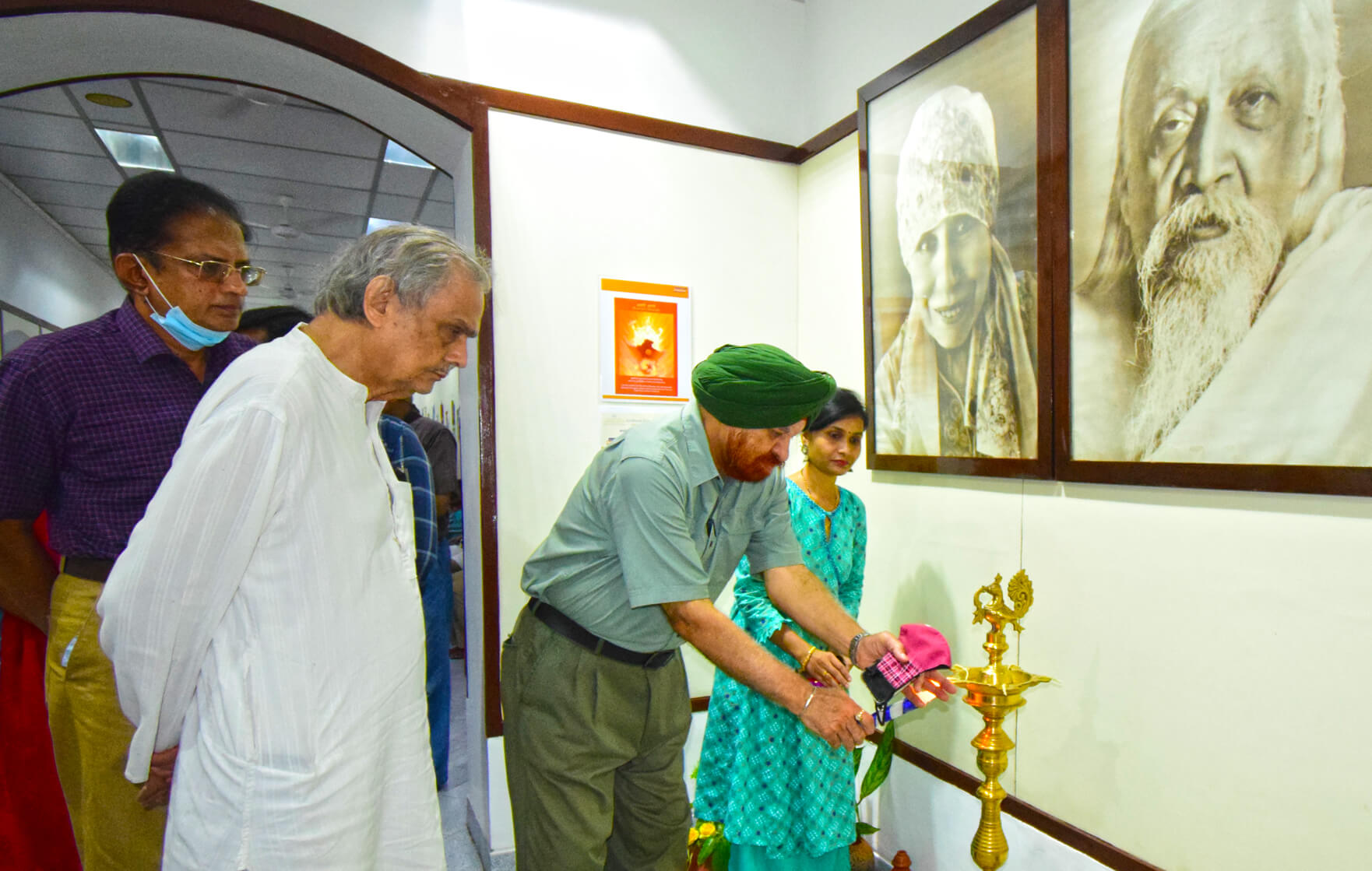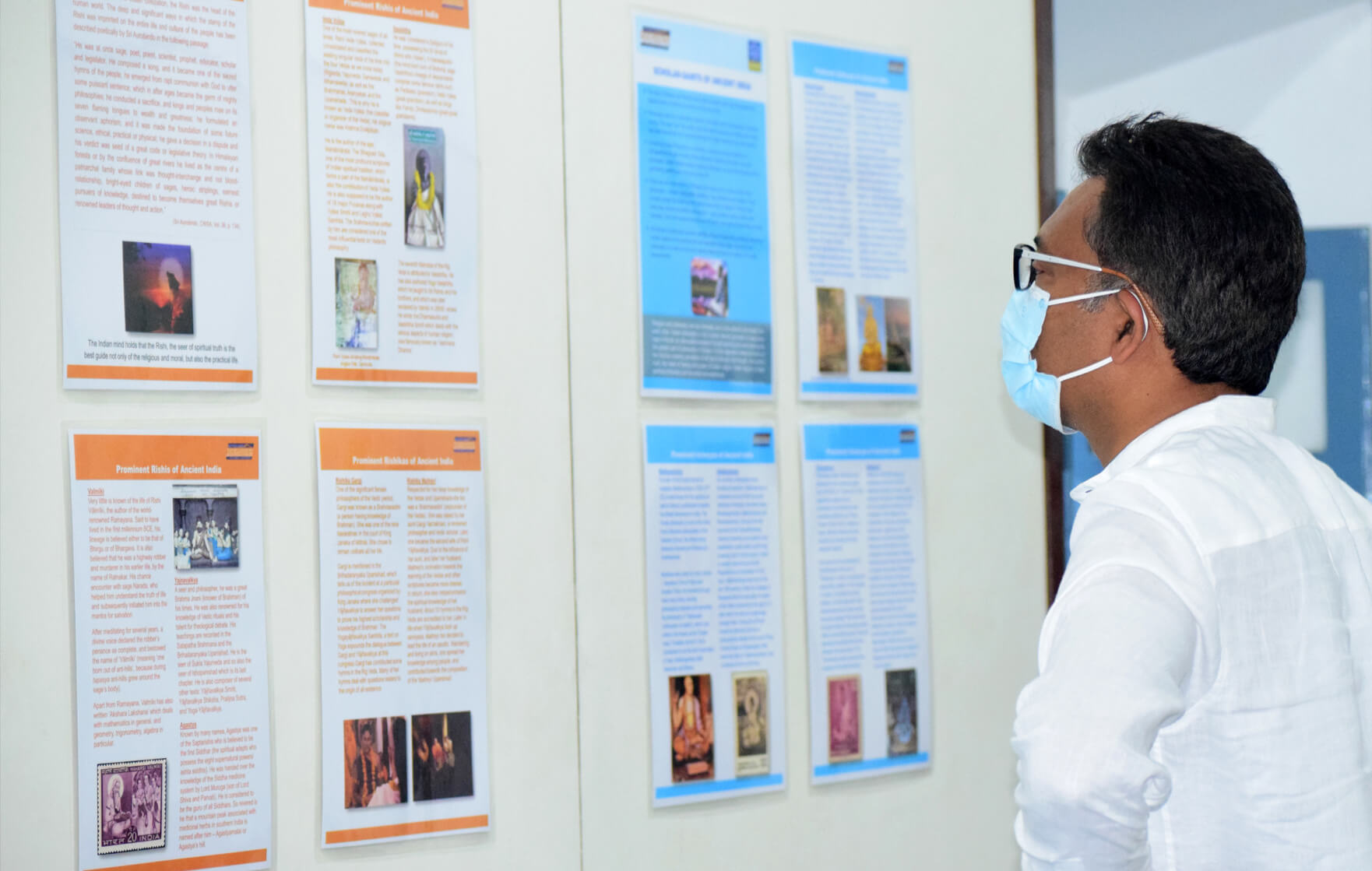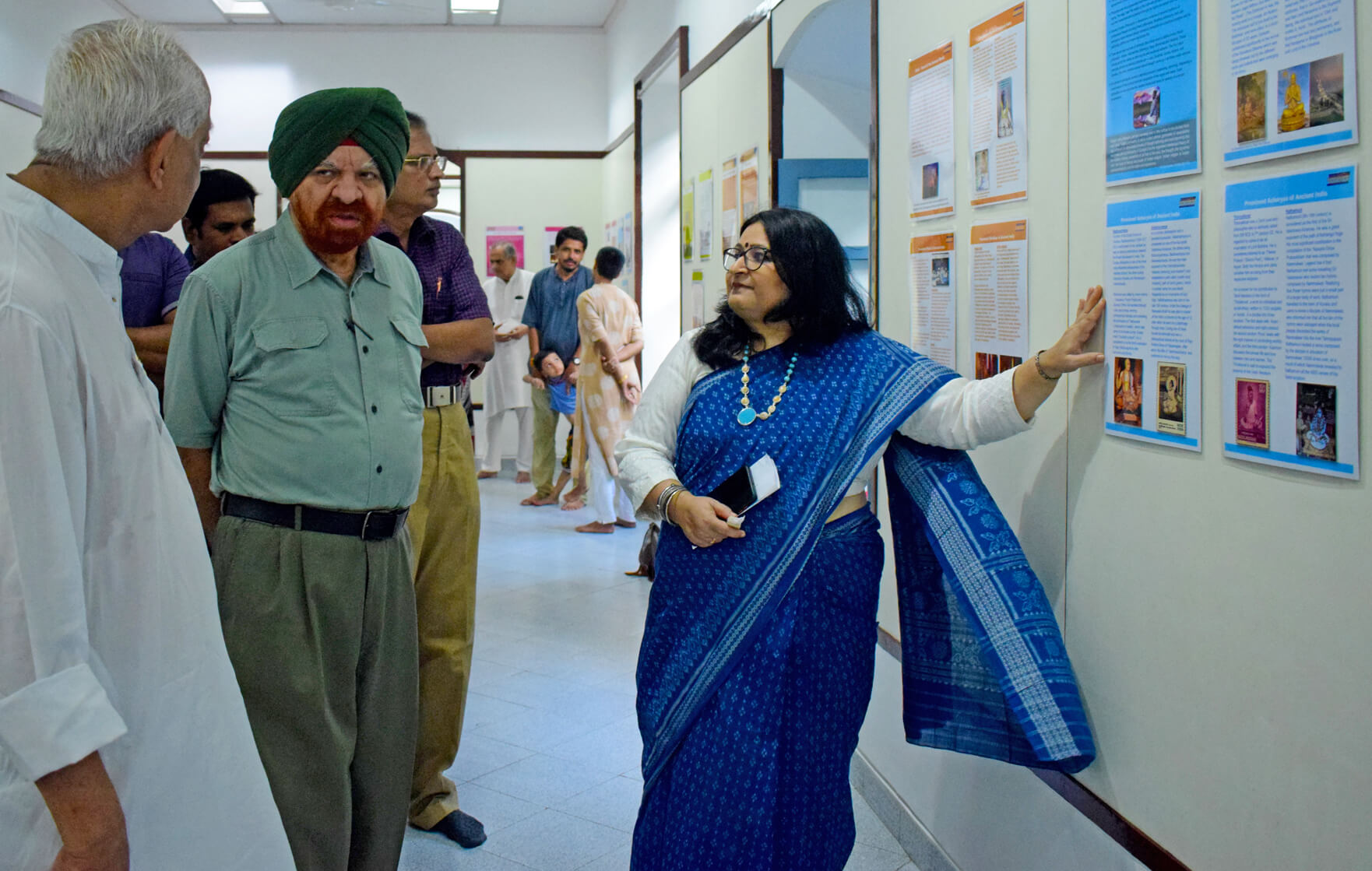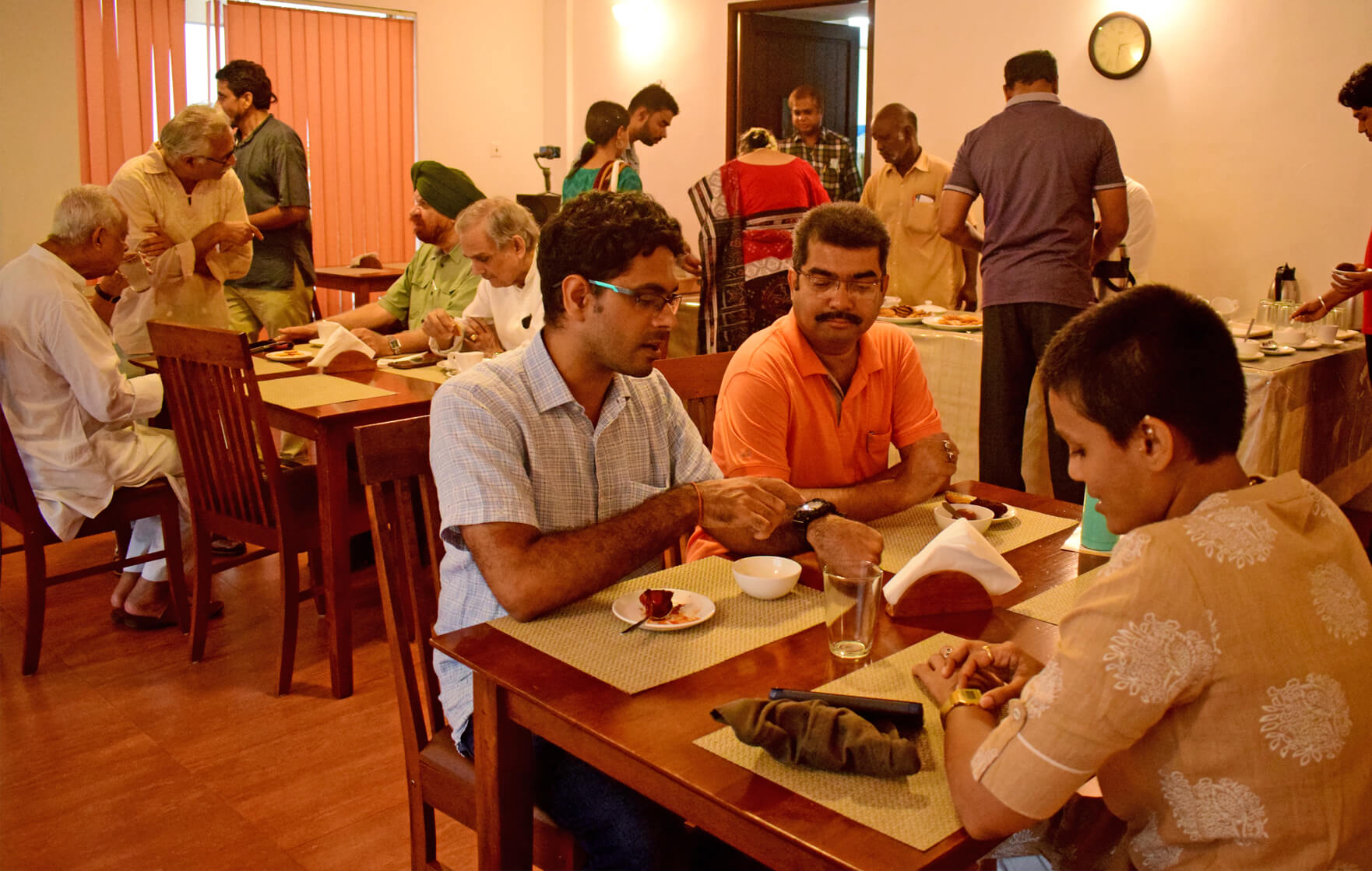 Bharata Shakti – Mother India, a Power, a Godhead
As part of part of Sri Aurobindo Society's celebrations of the 150th birth anniversary of Sri Aurobindo and 75th year of India's Independence,
Hon'ble Vice-Chancellor Prof. Gurmeet Singh, Pondicherry University inaugurated the exhibition, Bharata Shakti – Mother India, A Power, A Godhead' at Ashram Exhibition Hall on 20 May, 2022. This exhibition is on until 30 May, 2022. All are welcome!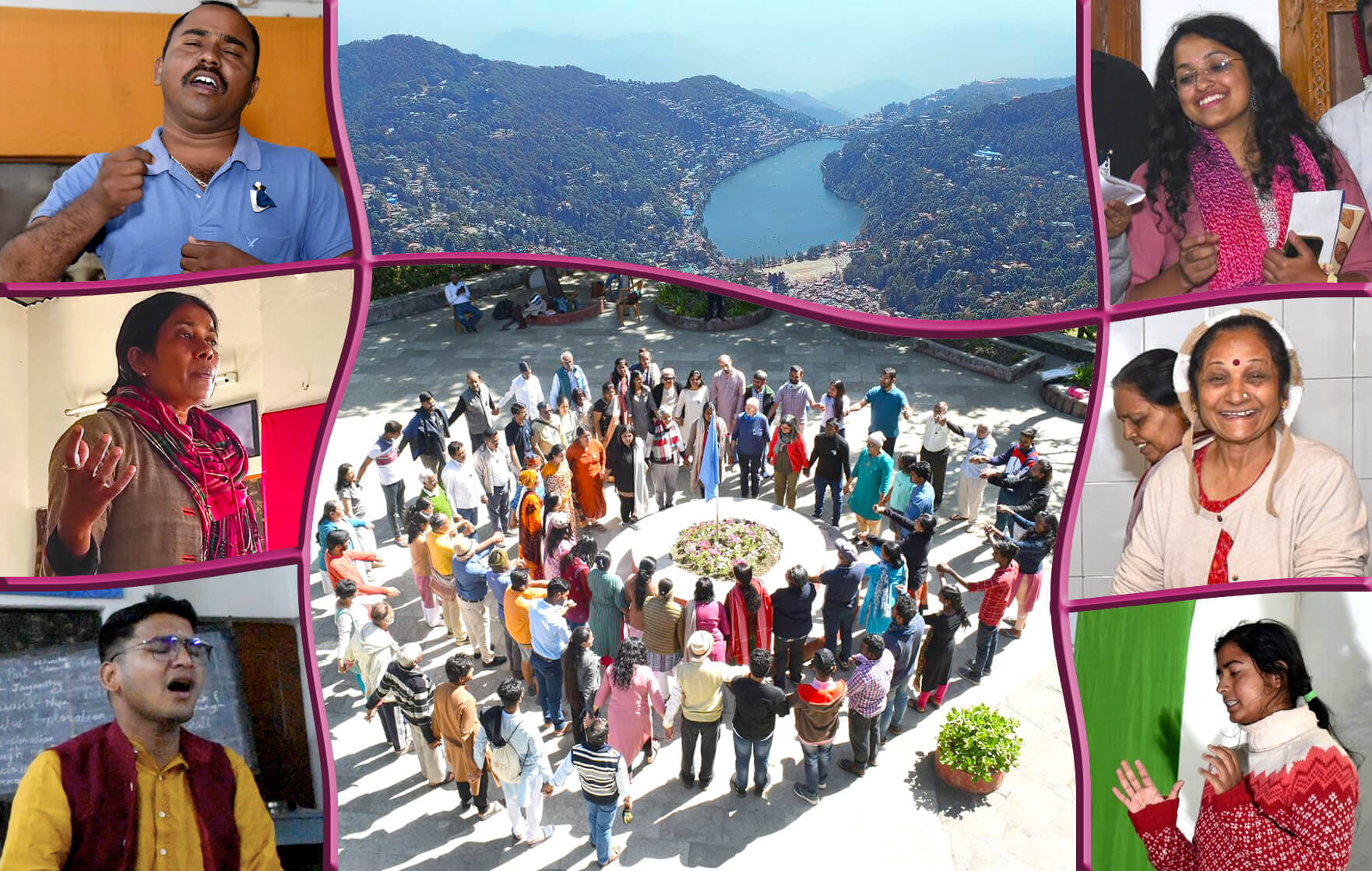 Sourcing Our Oneness
The sixth 'Sourcing Our Oneness' camp was conducted from March 26 to April 6, 2022. This camp helped those who strove for the realization and fulfillment of the aims and ideals of Sri Aurobindo and The Mother. The camp was organized in the beautiful scenic venue of Van Nivas, Sri Aurobindo Ashram, Nainital. During this camp, the focus was on the fourth dream of Sri Aurobindo – the spiritual gift of India to the world.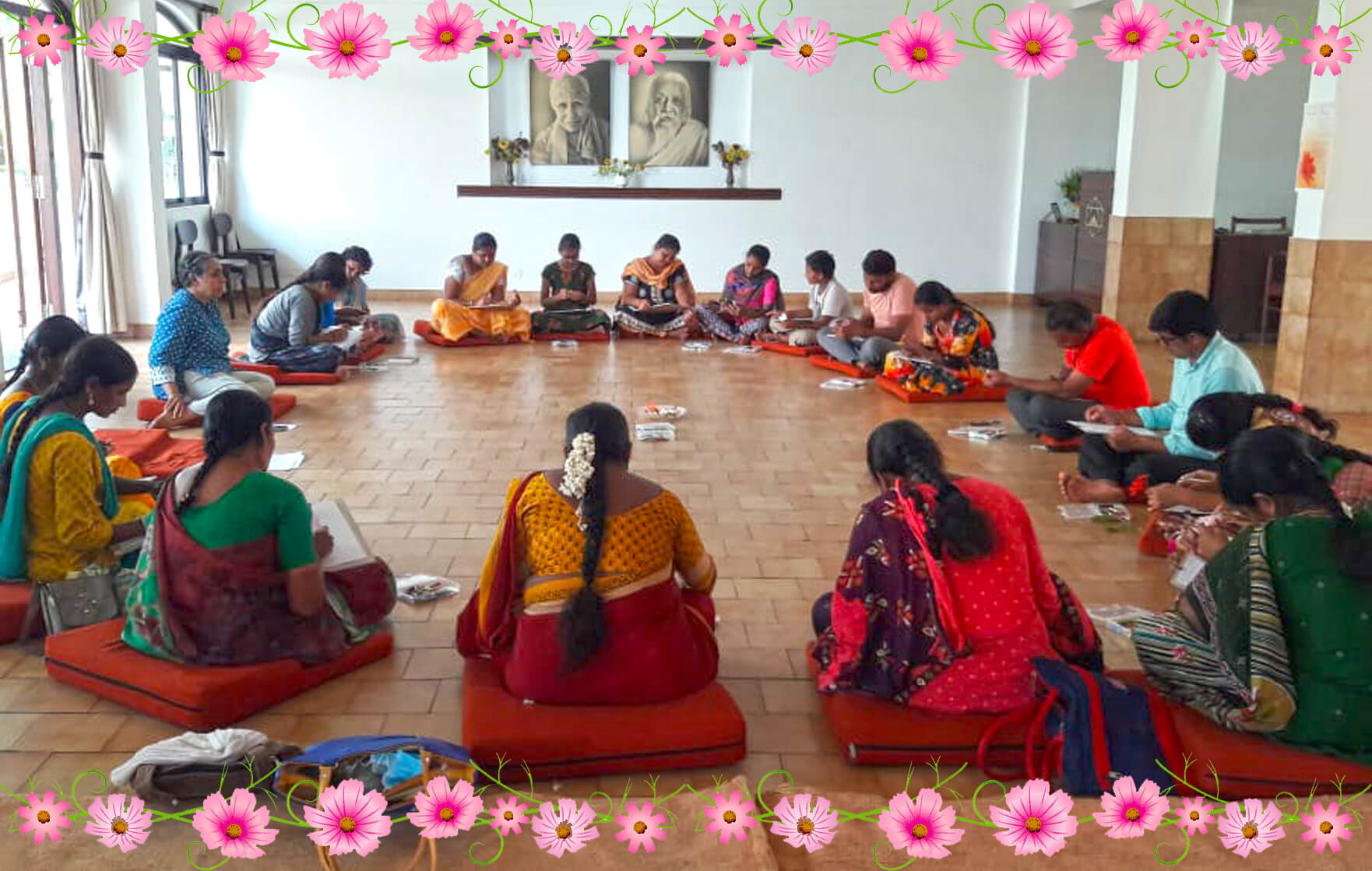 Interaction with Sri Aurobindo's School
A team of 20 teachers from Sri Aurobindo's School Telangana visited Sri Aurobindo Society, Puducherry and interacted with the Integral Education team. In this workshop, a new and alluring aspect of flowers was introduced to the teachers. The facilitators, Priti and Rathi, helped the teachers to understand and go in line with their inner friend – flowers. The participants agreed to use these methods in their teaching to the students.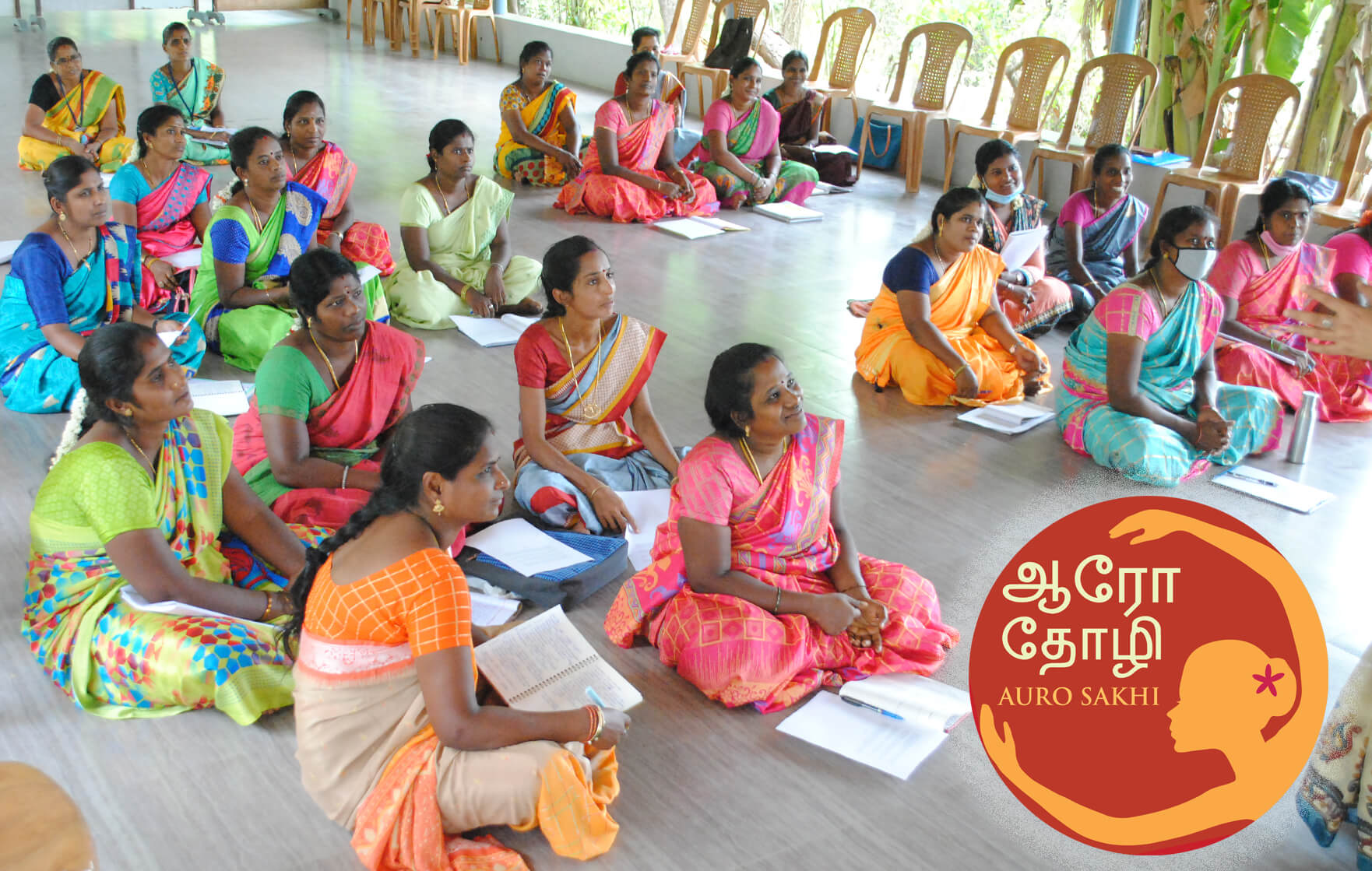 Auro Sakhis
It is now time for leaders to train new batches. Yes, SARVAM Sakhis have found 20 new trainees and have started their training. The main focus of these 20 Auro Sakhis will be nutrition. Carefully picked from 10 villages, these Auro Sakhis will undergo intensive training for the next few months. They attended their first training from 12-14 May 2022 at the Satyam Community Centre.

Sri Aurobindo: A New Dawn – Storyboarding Stage in Full Swing
An animation film, 'Sri Aurobindo: A New Dawn', is being made, to inspire the youth of India and the world, through the story of Sri Aurobindo and his immense contribution to the renaissance of India, as our offering for the 150th year of Sri Aurobindo's birth.
Read More
Offering in Humility and Gratitude
We stepped into a significant year on 15 August 2021 as it starts the 150th birth anniversary of Sri Aurobindo and the 75th year of India's independence. This section is our humble offering to this momentous occasion. We will bring a few golden glimpses from the Master's avataric life as well as a few glorious achievements of independent India.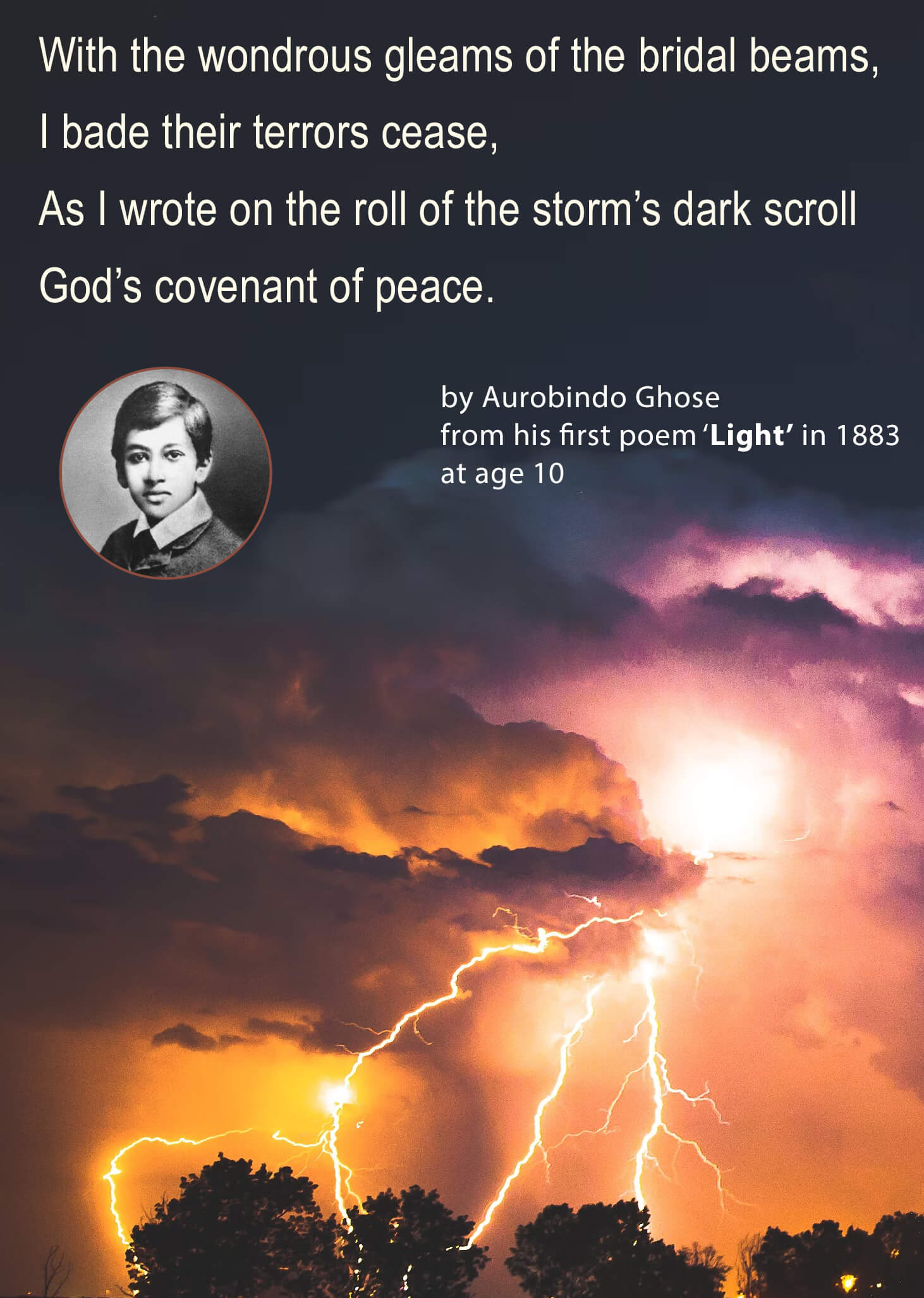 Sri Aurobindo's first poem
Sri Aurobindo was once asked, in 1939, during the course of a conversation with one of his disciples:
"When did you begin to write poetry?" He answered: "When my two brothers and I were staying at Manchester. I wrote for the Fox family magazine. It was an awful imitation of somebody I don't remember."
Ref; A B Purani, Life of Sri Aurobindo
The magazine which Sri Aurobindo had referred to was the Fox's Weekly launched on 11 January 1883, and Sri Aurobindo's poem titled 'Light' was published in the very first issue on that day. Sri Aurobindo was in his tender age of around ten years at that time.
It is a fortuity to disseminate this poem with you all.
'Light'
From the quickened womb of the primal gloom,
The sun rolled, black and bare,
Till I wove him a vest for his Ethiop breast,
Read More
(…is all we need to embrace life with a smile!)
This time it is humour on museums
A man walks into a museum.
While wandering, he trips and breaks a vase. He panics and picks the pieces up. But the curator appears and almost has a heart attack. "What have you done! that vase was 2000 years old." He shrieks. "Oh thank God." The man sighs in relief. " I thought it was brand new."
I just got fired from my job in Museum
They said they're not happy with my work here, which is ridiculous, I only worked here for 2 days and already sold 2 Picassos.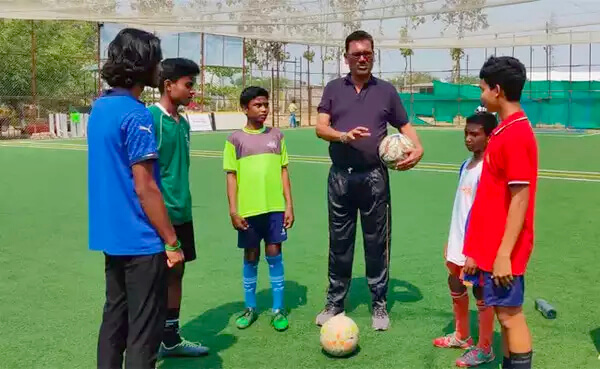 Slum Soccer @Rehabilitation Centre
Can a football training academy become a rehabilitation centre? Yes, it can if legends like Vijay Barse led the team.
Read More